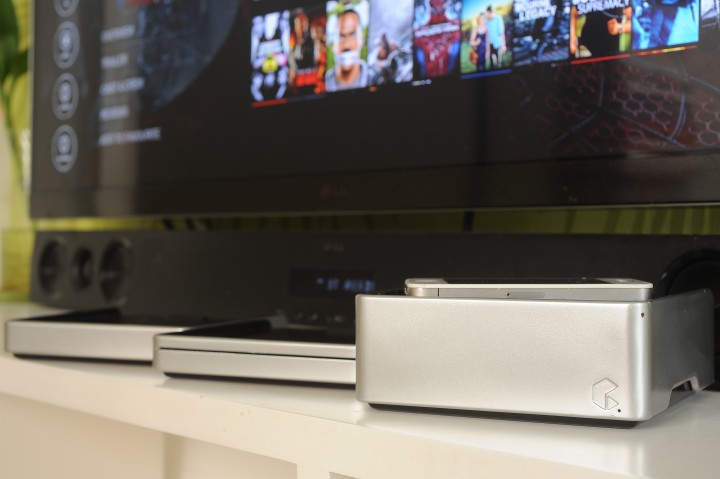 For young, single men like this writer, managing photos and media is a cinch. The few photos I take on my iPhone are easily imported over to my MacBook Air, and any other image or video files are usually located on Dropbox, or within two or three folders in my computer's finder. With a few different clouds and my external hard drive, I've no need to spend more money for extra space
But for tech-loving families, like the one that resides in Ashok Jaiswal's home in Hong Kong, managing photos can be a pain. With relatives all using different devices and different cloud storage services, saving and sharing pictures from last week's birthday party typically involves some coordination and communication – questions like "Do you have Dropbox?" and "Can you send them to me on WhatsApp?" Monthly subscription fees for extra cloud space baloon quickly.
The clutter resulting from different clouds and different devices led Jairol to design and build Ezeecube, a media-oriented storage device for the home that's truly cross-platform. After launching the startup last February the Ezeecube team has received a seed investment of HK$250,000 (about US$ 35,000) from Bigcolors and Big Bloom, two Hong Kong-based early-stage funds (CORRECTION: Ezeecube and Bigcolors would like to clarify that Bigcolors advising the company and is not acting as an investor), and is launching a campaign on Indiegogo to help finance the prototype's manufacture.
Ezeecube is a cigar box-sized slab that holds 1TB of storage. Built off of the open source XBMC media player software, the corresponding Ezeecube app for iOS and Android automatically syncs each user's photos to the Ezeecube home cloud, where they then remain accessible to all other registered devices. Using patent-pending algorithms, Ezeecube deletes duplicate files and organizes photos by face. For those who want more storage space, or want to expand the range of files supported by Ezeecube, stackable drives can be purchased and placed right on top of the initial Ezeecube slab.
Jaiswal claims that Ezeecube marks the first truly cross-platform photo storage option of its kind. Google Drive, Dropbox, and iCloud – the two best-known providers of plain Jane cloud storage – all charge money for extra storage space, and Google and Apple optimize their services' experience for their respective ecosystems. They're also not particularly well-suited for replacing the bound photo albums of old. "These services are designed for file-sharing, in particular, short-term file sharing," says Jaiswal. "They're not designed for multimedia content, sorting that content, or long-term photo storage."
Another potential competitor for Ezeecube is QVIVO, a four-year-old startup that also calls Hong Kong its home. QVIVO's XBMC-based software maintains a movies-and-music focus and charges users US$10 a month for access to its own cloud. Ezeecube, meanwhile, emphasizes photos, and will charge consumers US$299 for their own 1TB home cloud.
While Ezeecube is technically a piece of hardware, Jaiswal is a media software guy through and through. After stints working at Wasp3D, and India-based maker of SaaS products for broadcast TV stations, and Muvee, a Singapore-based maker of video editing software, Jaiswal picked up an MBA at Hong Kong University of Science and Technology and landed a gig at Goldman Sachs.
Jaiswal says the idea for Ezeecube came out his unhappiness with current options for saving photos of his daughter, with no service prioritizing efficiency and security.
We have a one and a half year old daughter. Everybody these days takes photos using their smartphones, and we take a lot of photos of our daughter. I lost my phone once so I lost all the photos on it, and my wife and her mother also struggle with saving images on their phones because they run out of storage quickly. Google and iCloud don't come for free – after 5G you have to pay a lot of money, up to US$50 a month. Privacy is another issue. We take a lot of photos we hope to keep within the family, so if my wife's mother isn't careful then all of a sudden those photos could be all over the internet.
Ezeecube aims to raise US$75,000 on Indiegogo by July 4.