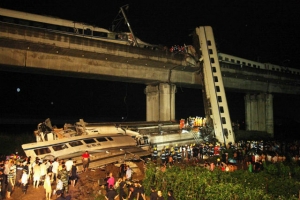 Last week's horrific high-speed rail accident in Wenzhou, China, has serious political implications for the future of that country's high-speed rail lines. But in the aftermath of the accident, it appears that perhaps the larger issue is what, if any, implications the accident has for Sina Weibo's future.
Weibo is Sina's answer to Twitter, based on the same idea but arguably better executed, and every bit as addictive. It is the largest of several Twitter-like services in China. They broke 100 million users early this year, and according to research firm iResearch, they held 56 percent of China's microblogging market in 2010, with a long lead over second-place Tencent.
The company has brought a lot of attention to China's tech sector, and its service has evolved into an elegant hybrid of traditional microblogging and social networking platforms. But it has also become increasingly political as news, rumors, and opinions that aren't permissible in China's restrictive media environment increasingly find their way onto Weibo.
Weibo in the Wake of the Crash
The train crash, in particular, has felt something like a tipping point. Within hours of the first report of the crash, comments and criticism were piling up, and over a week later, the flow has barely slowed. There are already over ten million comments about the accident, nearly all of them angry, and in user-created polls, netizens have again and again showed that they're angry with how the crash was handled; "very dissatisfied" has won with overwhelming numbers in every poll I've seen, and most of the polls have accrued tens and even hundreds of thousands of votes.
Sina, like all domestic companies, is required to censor content on its site, but the train crash has proved too big for them to censor. It would be too obvious and dangerous to delete all 10,000,000+ messages about the accident, but deleting individual messages rarely works, as by the time a censor finds them they've been re-tweeted by dozens, hundreds, or thousands of others.
More concerning from an official perspective is that on Weibo, the government seems to leak like a sinking ship. Directives to the media attempting to control reporting on the story were leaked onto Weibo by reporters themselves. The bizarrely-missing driver of one of the trains (the other driver was killed in the accident) hasn't been seen or heard from, but a conversation attributed to him was leaked to Weibo. Most recently, a confirmed CCTV Weibo account leaked that a former railway official who had been in charge of the high speed rail project until he was suspended in February on corruption charges has apparently amassed $2.8 billion in overseas accounts. That's US dollars, not RMB, and no, "billion" is not a typo.
These sorts of leaks, combined with the amplification of anger that comes when it's easily shared with millions of like-minded net users, have led to some serious questions about the sustainability of Weibo in its current form. How long can the government continue to allow such widespread, open criticism without threatening its own legitimacy? It's clear from Weibo posts that trust is already at an all time low:
What Does the Future Hold?
Shuttering Weibo entirely would risk shunting some of the anger and frustration that's being expressed there now into the streets, which would likely be worse. A showdown is coming. But does it have to be a zero-sum game?
Probably not. The government could, for example, require real-name registration for all Weibo users in the hopes that people would be less likely to be critical using their real names. But the effectiveness of this technique is questionable; there have been a great many highly critical tweets passed along by real-name users over the past week (under Weibo's current system, users have the option to register with their real names, but they aren't required to).
Heavier censorship, or entirely blacking out specific topics is another option, but this runs the risk of making people angrier and more cynical than they already are, as well as giving them an incentive to attempt to access foreign services like Twitter, where the government has no way to control or manage the debate.
Maintaining the status quo is possible in the sort term, but its long-term tenability is questionable as long as China's media environment remains the same. The absence of credible and timely reporting has led to an inundation of rumor and innuendo, which in turn builds cynicism and destroys the government's legitimacy in the eyes China's rapidly-growing internet user base.
Whatever changes occur, it's unlikely that Sina themselves will have much say. Like all Chinese internet companies, their ability to do business in China is entirely dependent on government-issued licenses to provide internet services, and their failure to cooperate with regulatory requests would almost certainly result in the termination of some or all of their licenses.
[Image Sources: Shanghaiist, Sina Weibo (original poster unknown)]