Chinese regional newspaper Xinmin Evening News interviewed newly-crowned The International 4 champion Newbee about its $5 million win last week as part of a larger piece about Dota 2 and China's successes this year in the competition. The interview was transcribed and posted online by Chinese gaming site Duowan, and ran with the headline "Newbee: eSports are not addictive games"—a bold statement in a country that has a storied history with gaming addiction, and where that negative perception has even led to criticisms of e-sports players only a few months ago.
(See: What's the best way to deal with game addiction?)
As the paper notes, the winning of a world record prize pool by mostly Chinese teams, and especially the first place win by Newbee, has captured the Chinese media's attention, with commentators calling Dota 2 a "get-rich-quick game". The paper was quick to compare each member of Newbee's after-tax winnings: 3.9 million RMB (about $630k) each, with that of the recently-victorious German soccer team, where each player earned €300k ($400k). Granted, the latter team had many more players than Newbee's five-man squad, but then one competition is the world's largest single sporting event, and the other is a video game—something a lot of people are still resisting even calling an eSport.
In its interview with team captain Zhang "xiao8" Ning, the paper focused on his having taken part in the dating show "One in a Hundred", as well as that he was the only married member of the team. Some people, it claimed, have asked xiao8 whether he's still going to play Dota 2, to which he replied instantly, "I definitely will, I can earn so much money from it." When asked what he planned to do with the money, he said he planned to buy an apartment in Shanghai. "And the remainder?" The writer asked, to which xiao8 jokingly replied "pay off the mortgage!"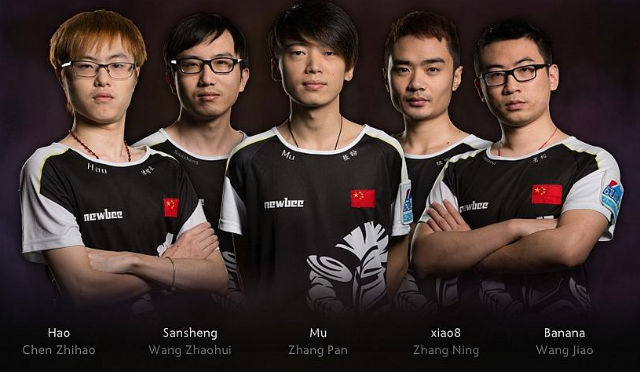 The interview took a somber turn with its segment on Wang "Banana" Jiao, the oldest member of the team. He discussed the relatively short peak eSports athletes experience, claiming to be already considered elderly in the scene. He also acknowledged that his "map awareness and reaction times clearly can't compare with younger players'". "Once you're past 24," he concluded, "your 'golden age' is already over."
Banana is one of the last remaining active players from the first generation of Chinese Dota, though the idea he touches on has been an issue in the (far older) fighting game scene for a number of years now. Issues related to ageing might well be something we see more of in eSports in general in the years to come.
On a lighter note however, perhaps the best comment of all came from Chen "Hao" Zhihao, who joked: "thank you so much to all the haters, you helped me to keep up my fighting spirit… to those who look down on me, I'm sorry to disappoint you."
---
Read more:
[news post_id=169360]