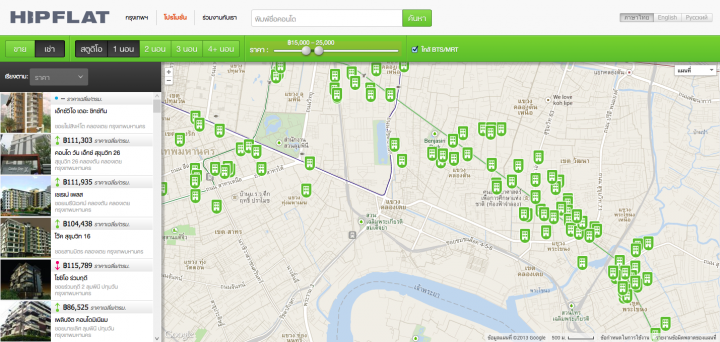 Thailand-based online real estate search startup HipFlat has successfully raised $335,000 from various international investors including Singapore-based early stage funds Crystal Horse Investments and 8capita, a Thailand-based group of angel investors led by Kris Nalamlieng who also invested in ShopSpot, and Chang Ng from the Netherlands.
This angel round was closed back in September, but has just been revealed to the public today. The money has been used to get the company off the ground, build a team, as well as figure out the business and monetization model.
Founded in 2012, HipFlat offers up-to-date real-time data on the availability of properties, aiming to help users rent and purchase real estate with ease. Available as a web app, it works similarly to Vietnam's Batdongsan and Indonesian's UrbanIndo.
The app uses map-based search, allowing people to zoom in or out to find the apartment in their price range. Currently users can search over 20,000 active property listings with 200-300 new properties added daily. HipFlat also offers a Neighbourhood Explorer tool in which a home-buyer can go on a virtual tour and check out available transportation options, shops, schools, and many other places around prospect buildings in Bangkok and Pattaya.
The startup claims that its system can automatically pick up property listings from broker sites, assign every listing to a building it belongs to and show it on a map. It claims to be the first in Thailand to offer market data on condo prices.
Although HipFlat is unable to disclose specific numbers, the startup has claimed that over 30 percent of the users who tried HipFlat once become repeat visitors. In addition, the HipFlat team has grown from four people team to ten people in the past six months.
For real estate agents, the website is free-to-list though certain terms apply. However, agents must pay to receive inquiries from home-buyers and renters. The startup offers different packages with 20, 50 and 100 guaranteed inquiries. When a customer makes an inquiry on HipFlat, the request will be forwarded to one of the paying agents via email. The company is also exploring an opportunity the alert its customers via SMS.
HipFlat is now preparing for the next funding round. It aims to expand to other Southeast Asian countries next year, and Malaysia will be first on its list.
(Editing by Terence Lee)