After starting in Thailand, ebookstore startup Ookbee has grown quickly. It has captured 85 percent of the ebook market in Thailand and then expanded to more countries in Southeast Asia. Now it's in the Philippines.
Launched in December, Ookbee operates under the Buqo brand in the Philippines. The name sounds like "book ko" in Tag-lish, which means "my book" in English. It started with 300 ebook titles when it launched in the country, and now that has grown to 500 books and 25 emagazines. To help its users discover new titles, Buqo shares any new book in its collection on its Facebook page
Buqo focuses on providing Filipino-authored and published ebooks and emagazines in its store. Buqo already has a team of 12 people, including a marketing team that coordinates with publishers in the country.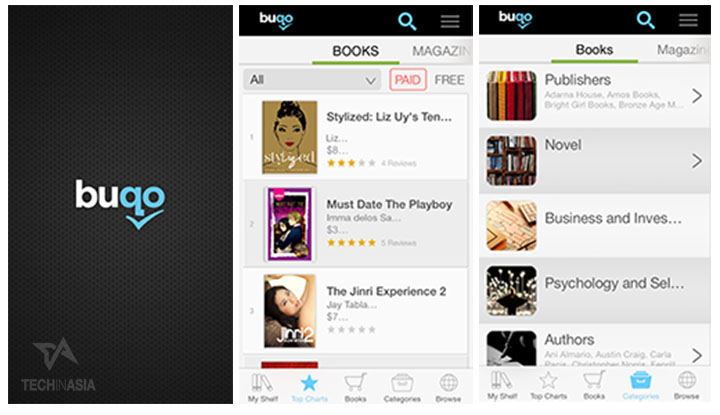 (See: Ebook Startup Ookbee Experiencing Huge Growth, Approaching 3 Million Users)
Buqo marketing director Chad Rosario believes that there is great potential for an ebookstore such as Buqo in the Philippines as it "gives local publishers the opportunity to market their content globally in a very cost-efficient manner." He adds:
The ebookstore market here in the Philippines is arguably still in its infancy. As more consumers assimilate these technologies into their lifestyle, demand for mobile goods and services also increases.

We realized that there is no clear market leader dominating the ebookstore scene in the Philippines. In addition, there is no platform that offers a catalog of both Filipino books and magazines. This really presents a great opportunity that we knew could seize.
Buqo has seen 11,000 app downloads since it launched and aims to reach 400,000 by the end of the year. Part of its goal is also to have around 1,500 ebooks by the end of the year.
Rakuten's Kobo and FlipReads are other ebookstore options in the Philippines.
Buqo is available as a free download for iOS and will soon be on Android.
(Editing by Steven Millward)