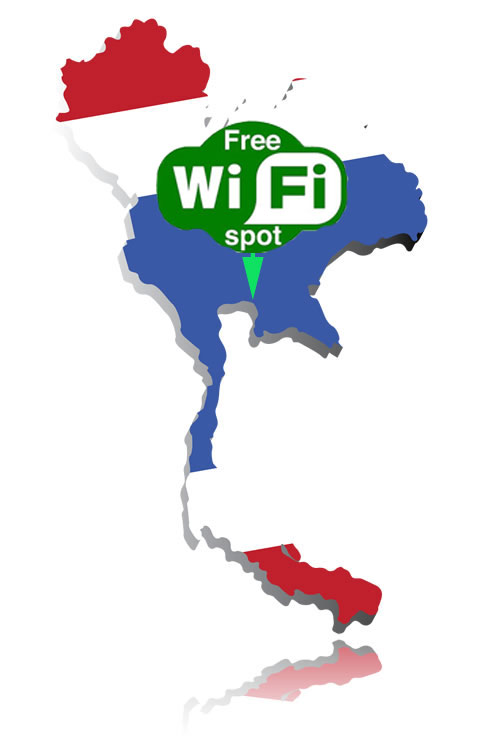 Earlier this year we reported that Thailand's number of fixed broadband internet subscribers was at 4.5 million. That's a 6.7 percent penetration rate by population and accounts for 22.7 percent of households. Also, according to Thailand's National Statistics Office (NSO), internet penetration in 2012 was at 26.5 percent, up from 18.2 percent in 2008.
This number could easily win some popular votes for the government, which is trying to make Thailand into a 'smart' Thailand. As part of the campaign, the government aims to aims to provide free wi-fi services at more than 400,000 hotspots by next year.
Last time we checked back in August, the ICT ministry boasted 120,000 free internet access points so far. The newest number released a few days ago says MICT has installed a total of 290,000 free wi-fi hotspots throughout the country. With a partnership between the government and AIS, True, and Dtac, 140,000 spots were installed. An additional 150,000 spots came from the NBTC. The MICT also ordered state-run CAT Telecom to install another 20,000 wi-fi hotspots by the end of next year.
This means, by year 2014, Thailand will have 310,000 free wi-fi hotspots in the country. According to the MICT, this progress is faster than expected. At first, it only planned to install 270,000 wi-fi hotspots by 2015.
We still have doubts about the speed and accessibility of this free internet. Each access point has a 2 Mb/s connection and can handle up to 15 users at the same time. Users can access the free wi-fi for 20 minutes each time they connect up to a maximum two hours per day. This is a positive sign, at least for people who live in rural areas who finally have a chance to get access the internet – for free.
(Source: Thairath)
(Photo Credit: lgmobilelover.com)
(Editing by Paul Bischoff)