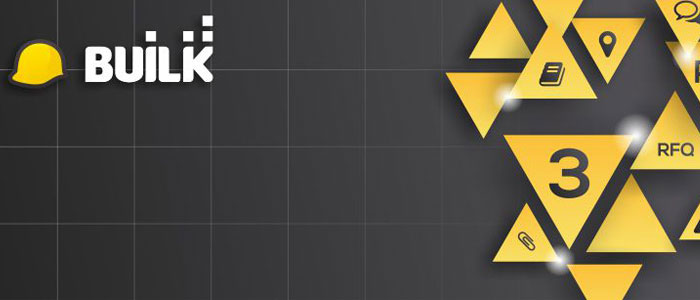 Builk is the Thailand-based company that won the Echelon startup launchpad event in 2012. It aims to shake up the US$7.2 trillion construction industry with its online tools, and it's naturally looking for expansion opportunities to win hearts in new markets. The startup's first target is Indonesia.
What Builk offers is free software-as-a-service (SaaS) platform for construction companies. After launching in 2010, over 2,500 companies are currently using the software in Thailand. Since August last year, when Builk first rolled out the international version of its software, the team has been pushing hard into Indonesia. But the team has found some new challenges there, Builk CEO Patai Padungtin tells Tech in Asia.
Indonesia is definitely the place to be, says Padungtin. Statistics show Indonesia has five times more small and medium-sized enterprises (SMEs) in the construction industry than Thailand, says Padungtin. Builk's Indonesian team is headed by Arya Setiadharma, who runs his own telecommunications and infrastructure contractor company called Prasetia. Padungtin met Setiadharma during the Echelon conference in 2012.
(See: Thai startup Builk attacks one of the biggest industries in the world: construction)
The startup's Indonesian expansion plans started gradually at the end of 2012, but the team had to wait for the arrival of Builk's international version last August before they could market the software aggressively outside of Thailand. In the meantime, the team translated the software from Thai into English, and then localized it to Indonesian. Builk developed one unique feature for customers in Indonesia – tax invoicing.
Different country, different habits

With the Indonesian product built, then came the next step: marketing it. Due to the fact that Builk has a business-to-business model that targets construction companies, networks play a key part in Builk's marketing efforts. That's why Builk finds that partnering with a local construction company is the best way to expand to a new market.
Even then, Builk's team found that it's hard to encourage Indonesian companies to use its software – tougher than it was in Thailand. Setiadharma gives an example of a recent free training session he held in Jakarta. He had more than 10 companies confirmed as attending the session, yet none of these "confirmed" guests actually showed up for the session. Zero. Each of them gave excuses like work deadlines or sudden meetings the following day.
Both Padungtin and Setiadharma are still not sure about the reason behind this "barrier". Construction companies in Thailand and Indonesia work similarly, and the people working inside the industry are alike in terms of age and educational background. The team assumes that different cultural habits cause this large difference in how easy it has been to engage with new customers in Thailand and Indonesia.
Educating future users
Setiadharma finds one more major issue that they're tackling in the new market: convincing construction companies to trust their business process to a cloud-based software system – neither the web nor mobile infrastructure in Indonesia is yet fully developed or properly distributed across the country. Most construction SMEs in the country are still using traditional and largely offline software like Microsoft Excel. But Builk's software is very different in being fully online. That's not such an easy sell when a reliable web connection is a challenge for many people.
So far Builk has 1,200 registered users from 260 companies in Indonesia. Of those, fewer than 100 companies are using it actively right now. The team plans to use another strategy to educate construction companies how to use Builk's software: approach educational institutions. The company hopes to get future construction workers more familiar with Builk's software before they become harder to reach as professionals in the industry.
Recently Builk launched its iOS app called SiteWalk. It's a construction site communication tool that lets workers manage their projects and generate reports. The app is integrated with Builk's SaaS and it can be a good indicator of which other countries Builk can expand to in the future. This, Padungtin hopes, can also help encourage a few more Indonesians to start using the company's software.