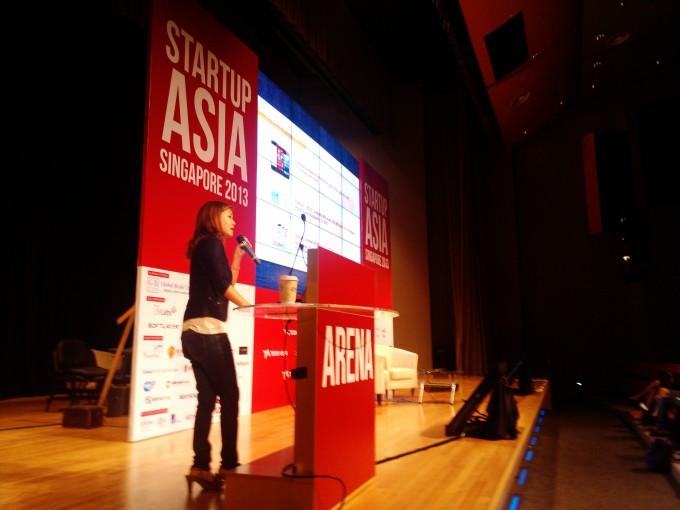 Our Startup Asia Singapore 2013 event, which wraps up today, has been focusing on Southeast Asia. So it's an opportune moment to get some insights from a local blogger. Oranuch "Mimee" Lerdsuwankij from Thumbsup.in.th is next onstage with a slideshare presentation about the Thai startup scene (embedded below). Here's the live blog:
#14:06: Internet penetration is finally up to about 30 percent. Facebook is the top photo site.
#14:06: For telco's non-voice revenue is up to 24 percent as more phone users jump on social and other messaging apps.
#14:07: Forecast for 7.5 million Android phones in Thailand by end of 2013. Market share will be 68 percent on Android this year, 18 percent on iPhone/iOS.
#14:09: The main VCs: inVent, ArdentCapital, M8VC, and Sparx. Now there are a good few incubators and other co-working spaces.
#14:10: InVent has funded Ookbee, the huge e-book platform we've often discussed on this site.
#14:11: As for Ardent, it has backed Burufly, Komli Media, Ensogo, and lots of other important sites in the region, not just in Thailand.
#14:12: With credit card penetration so low (about 15 percent of adults), bank transfers are still the way to monetize, with about 80 million bank accounts in the country. E-payments are growing, and some emphasize non-credit cards support. Look out for PayBuy, 2C2P, and TrueMoney.
#14:16: As in much of Southeast Asia, poor internet structure and a lack of trust in e-payments represent two major stumbling blocks for both startups and major web companies.
#14:18: Looking at one local success story, how did Ookbee get so big? It has built itself on partnering with publishers of paper/offline content. Plus it did this early.
#14:20: Another fine example is Builk, which is a business social network focused on the construction industry (see page 37 on the slideshow to see how it monetizes).
#14:22: Digio is a homegrown alternative to Square, which turns the smartphone into a mobile POS. It has partnered with Kasikorn bank to offer mobile payments. Again, an offline partnership has boosted a Thai startup.
#14:23: What's next for Thailand? The new 2.1GHz 3G spectru, will finally make 3G mobile data more mainstream around the country. Mimee says that the funding is not the problem. Instead startups need more coaching and skills. "This is the time for incubators to help – and for foreigners to come into the startup community". Indeed, one of our Startup Arena competitiors later is based in Bangkok but run by an American – look out for it later this afternoon.
#14:25: That's the sharing session done. See Mimee's slideshow below:
---
This is a part of our coverage of Startup Asia Singapore 2013, our event running on April 4 and 5. For all our newest Startup Arena pitches, see here. You can follow along on Twitter at @techinasia, and on our Facebook page.