Yesterday, an earthquake with magnitude 6.0 occurred near Chiang Rai, the northernmost city in Thailand. The quake resulted in one person being killed and many injured.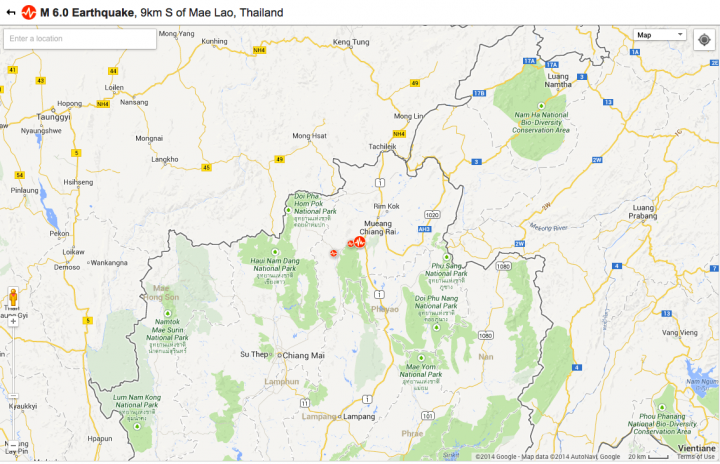 This took people in Thailand by surprise as the country doesn't normally get shaken by quakes. However, all three main telcos assured customers that cell service in the affected areas still works and people should still be able to get in touch with their relatives.
Aerial photo showing earthquake damage to a highway in Chiang Rai (Via @TopNewsTH) pic.twitter.com/uJWAf3p8f2 #Thailand pic.twitter.com/Xg4HzCqgM0

— Richard Barrow (@RichardBarrow) May 6, 2014
One killed, several dozen injured in northern Thailand earthquake. http://t.co/HhraI2gf8R

— Gawker (@Gawker) May 6, 2014
In addition, Dtac announced that the company has installed mobile BTS and mobile generators in the area to prepare for any aftershocks.
While the telcos assured people that phones calls should still work, customers might encounter some difficulties in trying to get connected due to the volume of calls. TrueMoveH stated in its press release that the company saw a 20 percent increase in the usage of data and voice calls in the 30 minutes after the quake.
AIS, Dtac, and True promise that teams are working 24 hours to make sure that customers won't drop off the grid.
(See: Japan's CyberAgent Ventures expands into Thailand with new office in Bangkok)