Increasing Thailand's internet penetration rate and allowing every Thai to have access to the internet is one of the main policies of this government. Partnering with seven organizations; dtac, AIS, True, CAT, TOT, 3BB and the Office of National Broadcasting and Telecommunications Commission (NBTC), the Ministry of ICT has started providing free internet to many areas in Thailand, with a total of 120,000 free wifi access points so far.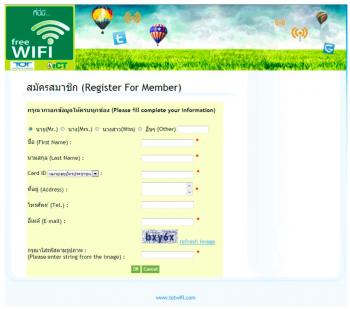 Most recently, MICT pushed TOT Public Company Limited, a Thai state-owned telco company under MICT, to install another 150,000 free wifi spots around the country.  This project was partly supported by NBTC, which will grant an additional 950 million Baht ($30 million) to it.The installation of the 150,000 access points will start in Q4 this year, and should be all done by the end of next year. It expects to see about 7.5 million users per year.
The access points will be installed at 78 public universities, 6,720 city halls and official offices, 1,100 local communities, 864 state-run hospitals, 1,738 police stations, 4,500 post offices, and others will be allocated to tourist spots and important locations throughout the country.
Each access point has a 2 Mbps connection and can handle up to 15 users at the same time. Users can access the free wifi for 20 minutes each time they connect (for a maximum 2 hours per day). Thai citizens need their Thai ID number to register for the free wifi and foreigners can use their passport numbers.
The ICT Free Wifi project is in line with the Smart Thailand initiative of the MICT, which aims to provide free Wi-Fi services at more than 400,000 spots by next year.
(Editing by Willis Wee and Charlie Custer)