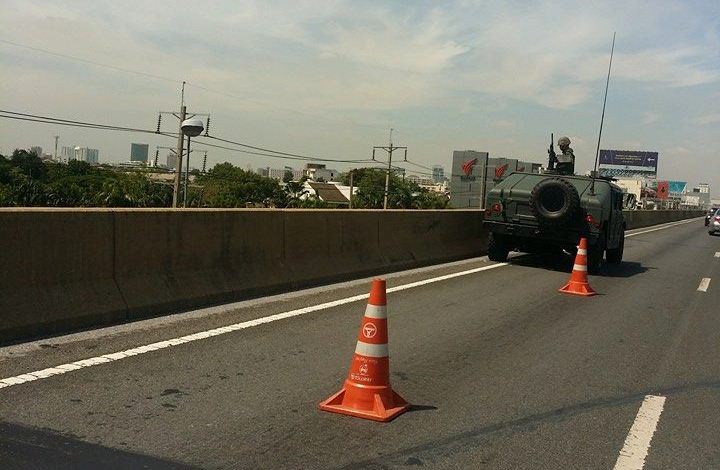 As of 3 a.m. local time last night, Thailand's army declared martial law across the country after over half a year of political unrest.
Besides the fact that we have soldiers on the street, we've become quite used to this sort of thing. Thai people are taking the matter seriously yet calmly.
กลุ่มคนสนับสนุนรัฐประหารดี๊ด๊าถ่ายรูปคู่กับทหารที่ออกมายึดอำนาจ ประจานตัวเองผ่านโลกออนไลน์ pic.twitter.com/BewdKd0Evq

— Panus D. (@PanusD) May 20, 2014
However, the reason I'm writing about this is because due to the martial law, all redshirt TV stations and anti-government TV stations have now been seized by the troops. This is, according to the army, to protect citizens from the biased reports and news that have been stirring the country's political atmosphere for quite some time.
Without cable TV stations, Thai people rely on public TV channels for news. However, social media like Twitter and Facebook are very popular, and news goes viral very easily. Thus, once again, I'm asking people to think before sharing. Don't be used. Moreover, don't spread rumors that could hurt the country in the long term. The world is watching Thailand.
Because public TV channels are often criticized for reporting biased news in favor of the government, more objective coverage can be found on local English-language news sites such as Bangkok Post, The Nation, or independent blogger Richard Barrow. If you can read Thai, the Thai Army Twitter account is a good resource for updates.The hashtag #MartialLawTH is being used on Twitter to keep people up to date.
Phone networks should still be working, so you can keep in touch with the rest of the world. Dtac and True have already announced that it has a 24-hour emergency team to respond to the heavy use of voice and data. Although, there's no news from the other main telco – AIS – no reported issues with cellphone service as of press time.