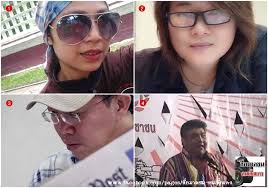 There are reports that the Thai government is threatening to jail people for posting or even "liking" posts on Facebook that spread rumors about a coup in the country.
This is not the first time that Thailand's online freedoms have come into question.
The threat results from the many protests happening in Bangkok and around Thailand recently, due to ongoing political instability. Adding fuel to the coup rumors, some even said that after the King has recovered from his illness, he returned to his palace in another province – which, again, has been taken as a sign that something is happening in Bangkok. Hence, the coup rumor spread, especially on social media sites like Facebook. Although, in fact, the King has been in this palace outside of Bangkok even before he got sick.
4 arrested
So far, four people have been arrested and questioned for posting rumors on Facebook and allegedly thereby "causing panic". The postings mentioned the possibility of a military coup and urged the public to hoard food and water. This arrest was based on section 116 of the Computer Crime Act of Thailand.
The Technology Crime Suppression division's chief of police, major general Pisit Paoin, said:
The four posted Facebook entries with false information that could damage the country. If found guilty, they could face up to five years in prison and a fine worth 100,000 baht ($3,200).
Freedom of speech is not clearly outlined as one of the rights of Thai people. There are many things we cannot say. Politicians sue each other for saying something deemed insulting that can ruin the reputation of one another all the time.
But not allowing regular folks to post, like, or share on Facebook has crossed the line, at least for me and some fellow Thai nationals I spoke with today.
Apisilp Trunganon, a product manager for Pantip, one of Thailand's most reputable sites, seems to agree. He tweeted from his personal account regarding this matter:
In fact, clicking "like" on Facebook shouldn't be a crime. The intention is just to show that the person "likes" the post, but doesn't intend to "share". The "sharing" function is Facebook's way of spreading the user's action.
จริงๆ การกด Like ไม่ควรผิดกฎหมายนะ เพราะเป็นการแสดงเจตนาว่าเรา "ชอบ" แต่ไม่ใช่ต้องการ "ส่งต่อ" การส่งต่อมันเป็นกลไกของ Facebook เอง

— Apisilp Trunganont (@macroart) August 5, 2013
Crossing the line
Surely arresting Facebook users and threatening to put the rest of us who like and share in jail for years is just way too much. As Apisilp mentioned, liking is just a way to show that you agree with the person who publishes the post or just like his/her way of thinking. Same goes with sharing; you think the post sounds reasonable, you share it. People who share or like the posts are not those starting the rumors. Yes, they may add fuel to the fire – just like with word-of-mouth gossip – but for the government to be taking such a harsh line only ruins its reputation.
I'm not saying that the government shouldn't take any precaution on protecting the people of Thailand. But as a government, an institute the citizens rely on, it should invest more of its time in urgent matters such as bombings in the south, or at the very least, making sure that Thai people get to exercise our rights in expressing how we feel about politics. I just don't want to see Thailand become the country, where everything is monitored and some news sources are banned.
How about TV rumor-mongers?
In Thailand, we have TV channels devoted to each political side – the red shirt channel, the yellow shirt channel, the Blue Sky channel (for Democratic party supporters). I've watched all of these channels. Obviously, they report news from their own angle/agenda. I don't see anyone getting arrested for encouraging their own people to hate one another. I don't see anyone getting arrested when they 'spin' the news – even though that often strays into rumor-mongering.
The same goes for Facebook posts. Those four who got arrested may have only made an assumption that something would happen (let's be honest, we're not the most stable country in the world), and in case it happens, be prepared by stocking up on food and water. They were just unlucky that instead of merely warning their friends or only sharing their opinions, their posts were taken as a threat to the country.
To me, it's an insult to Thai people for the government to take such an action. Yes, I'm aware that Thai society is a gossipy society (and one in which 18 million people are on Facebook). I'm aware that rumors can cause damage. But shouldn't it be up to each individual to believe or not believe the rumor? After all, you have to be over 13 to use Facebook so I think these adults need to do some fact checking before they start peddling ridiculous rumors.
Freedom of speech under attack across Asia
Usually it's a different case when the rumor comes from a news publisher or an influencer who's spouting rumors without checking the facts. Yes, that could cause damage to the country as it's from a supposedly trusted source. In this case, some of the four arrested over the Facebook rumors should have known better. One of the four is a journalist from Thai PBS, and one is a Redshirt leader. To those two I say, next time think before you post.
That's the responsibility inherent in being an influencer or media figure.
However, ultimately, the government should lay off on picking on citizens expressing their opinions on the internet. We've seen examples from our neighboring countries such as the Vietnamese government arresting bloggers, or two arrested in India for liking a political-related Facebook posts, or an Indonesian man arrested from posting about how God doesn't exist.
Since the Thai government keeps promoting the democratic idea, this action will only take the government backward. As the old saying goes "Respect is earned, honesty is appreciated, trust is gained, loyalty is returned". If this government wants to be trusted, it needs to stop invading Thai people's rights and start solving the real issues.
(Picture Credit: mthai.com)
(Editing by Anh-Minh Do and Steven Millward)