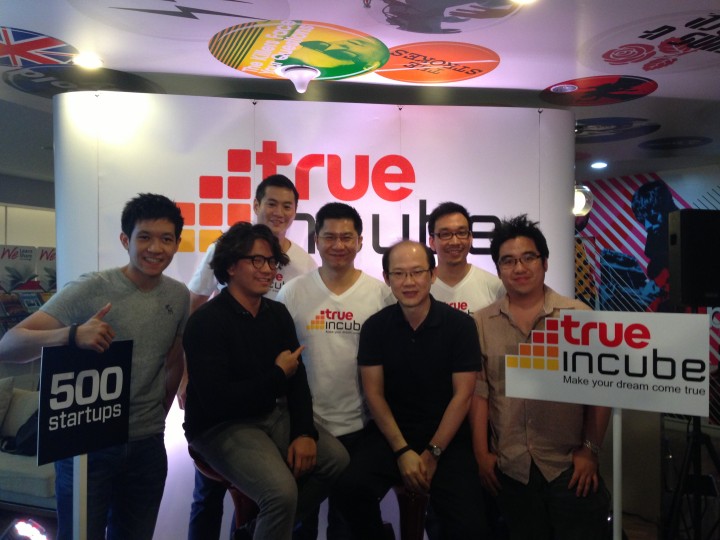 True Corporation yesterday annouced an investment in 500 Startups. The investment sum, although undisclosed, apparently makes True one of the top 10 investors of 500 Startups, according to the Thai telco. Additionally, True announced the six finalists of its True Incube incubator program.
Punnamart Vichitkulwongsa, True Incube's managing director, talked about the incubator program and the investment:
True Incube started in May. Working with all the startups, the company sees the potential in them. We want to help more. Therefore, the investment in 500 startups is another major step in helping Thai startups and entrepreneurs to be successful on a global scale. The goal of True Incube is to help entrepreneurs and the Thai startup ecosystem. After 3 months, I believe it can come true.
The benefit from True Corporation investing in 500 Startups is that every team that joins True Incube will get to pitch their idea to 500 Startups and will get a chance to be invested by 500 Startups, too. True Incube will send the top teams to Silicon Valley to work with 500 Startups and get access to the company's 200 mentors.
Khailee Ng of 500 Startups, who coindicentally will be speaking at our upcoming Startup Asia Jakarta conference, told us:
A lot of eyes are looking at Southeast Asia. I see the entire market is waiting to be served. We hope to transfer global best practices and create growth in Thailand's ecosystem. We're impressed with the quality of the Thai entrepreneurs. Our first investment was VIKI. Look at them now (Viki was acquired by Rakuten for $200 million). So don't underestimate them. Southeast Asia has the power.
Here is the list or True Incube's six finalists:
Fit Me: It's a solution for online shoppers to order custom-fit apparel by offering an online measuring system. The founders have done some research from women who buy online; 100% have experienced sizing problems. Fit Me will bring tailor-made online brands together unter Fit Me to become an online/real time solution for shoppers wishing to order custom-fit apparel. The site will be launched in 3 months.
SellSuki: It's an e-commerce platform to help shops sells their products on Facebook. It's like Bento Web, but SellSuki focuses on messaging and chatting, like a CRM platform for Facebook commerce. It tracks which queries have been responded and which have not.
Sticgo: It touches on the Thai love of taking pictures and using stickers. Sticgo is a location-based sticker mobile application with a merchant loyalty platform. The app has 60,000 downloads so far.
Taamkru: It's an app from the same team behind Haamor, which was recently a runner up of Dtac Accelerate. The team works with kindergarten teachers. The app is an online education platform for kindergarteners to improve their learning efficiency. Parents can check the scoreboard and are able to compare which subject the child is good at and what's lacking. Parents can compare those grades with others in the same area, same age, or other schools in the country and see the ranking. The app aims create a standardized assessment for kindergarteners.
Todok: It's the company that produces the Posopos app, an iPad application for retail merchants that serves as an all-in-one cash register and inventory tool. For example, the app uses camera function for barcode scanning and can record and collect transactions, etc.
Zeekamore: Zeekamore produces mocha+, an e-catalog app. Imagine Ookbee but for retailer catalogs.
After each team presented to the press and bloggers, we also got to vote for the team we liked the most. The Press & Blogger Popular Vote award went to Todok with the Posopos app!
(Editing by Charlie Custer and Willis Wee)