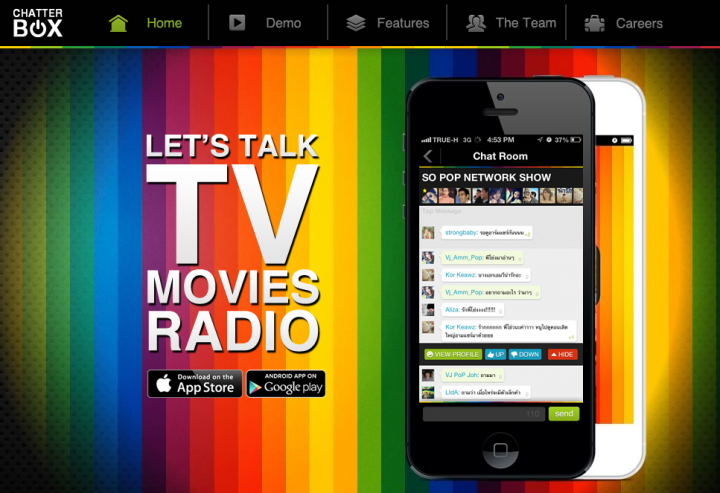 I'm one of those girls who loves to have a pajama night with my girlfriends watching our favorite shows together and judging them or just gossiping about movie stars. But with the traffic in Bangkok and the work that occupies us, I'm so happy I found Chatterbox, a second screen app for Thai TV shows! Now I don't' even have to leave my bedroom but the conversation can still keep going – not only with my friends, but with the larger audience that likes the same show!
If you are a TV (or movie or radio) addict in Thailand, you don't want to miss out on this Thailand-based second screen app. Think of Twitter hashtags on a TV screen and Zeebox on steroids. Well, it's sort of like that. The app, while not an app for watching TV online, aims to makes the TV watching experience more interactive and social.
Founded by the two Jafferi brothers, Taarif and Tareef, Chatterbox was the winner of AIS Startup Weekend Bangkok 2011. The app is a platform where users can pick a TV show they like, join a chat room and start talking to people who share the same interests. In addition to the chat function, the app allows users to get updates, check-in and get badges, and also shop for the items they like from the show, all right on the users' mobile phones. There are also a lot of gamification experiences. Users can get gift certificates to Starbucks or movie tickets for participating in the app.
Although the idea came about in 2011, the app was officially launched just four months ago. With a total of 150,000 downloads so far, it did hold the number one spot for social networking apps in the Thai app store for awhile.
Big data
Chatterbox saw the opportunity in the big data and seized it. It noticed that people who create content on TV don't actually get feedback or actually know who their audience really is. But with Chatterbox's log-in system, they know exactly who (age/sex/location) talks about their content and better yet, what those people are saying. That's how the app can help content developers evolve their content to serve their audience better.
With the data it collects, Chatterbox can also recommend other TV shows to app users that might interest them, based on past activities.
Content is the key
Although big data is what Chatterbox can offer content developers, the content itself is the key to Chatterbox's success (or failure). The biggest challenge for the app is to figure out what kind of content Thai people like so it can approach the right partners.
The most impressive move from Chatterbox so far is partnering with GMMOne, a Thai TV producer, and to having a specific chat room for Hormones the series, the most talked about TV show in the past few months and the main reason the app was the number one app for awhile. From there, Chatterbox also partners with fashion brands that TV stars wear in their shows and even allows viewers to buy products they see on their favorite TV shows. The sale volume has been quite impressive, according to Tareef Jafferi, Chatterbox's founder. He added:
The brands, at first, didn't even know that their products were on the show. That's when we stepped in and changed the whole ecosystem. We try to link them together. It's a win-win-win situation for the fashion brand, the content producer, and us.
Chatterbox is basically playing a mix-and-match game for TV and brands. It focuses on smaller fashion brands with low cost since big corporations have the money to put big logos into the show.
Right now, the English Premier League is what Chatterbox has its eye on. Without partnering with the league directly, Chatterbox aims to use the buzz about matches to drive traffic – similar to what happened with Hormones The Series. There will be interactive gaming features with push engagement to users in real time.
Challenges
1. Educate the users
Thai people don't actually understand yet what Chatterbox does. They think it streams TV content. So it gets a handful of one star ratings for "not working properly". Thus, it has had to write in the first sentence of the app description that "It's not an app for watching TV online".
2. Educate partners
Most partners at first compare the app to Facebook. It's been turned down a lot as both brands and broadcasters claim that they already have their Facebook pages so they don't need an app. It has to compete with Facebook fans and go another route, showing that its user engagement is higher. Chat engagement on Chatterbox is 100 times more than on Facebook, according to Tareef. In addition, most TV producers/broadcasters already have their own apps, so they say they don't need another app. That's something Chatterbox has to work on – explaining to them how it is not competing with the existing app, but instead providing something else the TV show's app doesn't have. At the end of the day, users tend to download only one application, so Chatterbox will maintain an open platform for all brands and act as a hub for all TV fans.
Bigger goals
Chatterbox aims to hit the half million mark by the end of this year.
With the promising growth in Thailand and exceptionally good feedback, it also believes it can expand into Southeast Asia by next year. Singapore is the first target. The company believes that digital media spend there is higher than anywhere else so it can start generate revenue. Indonesia and Malaysia are next on the list.
Right now Siamwara is Chatterbox's main investor, but when it expands, it will look for the next round of funding and also look for strategic partners in all those countries.
Chatterbox is now available on both the iOS app store and Play Store.
(Editing by Anh-Minh Do and Charlie Custer)