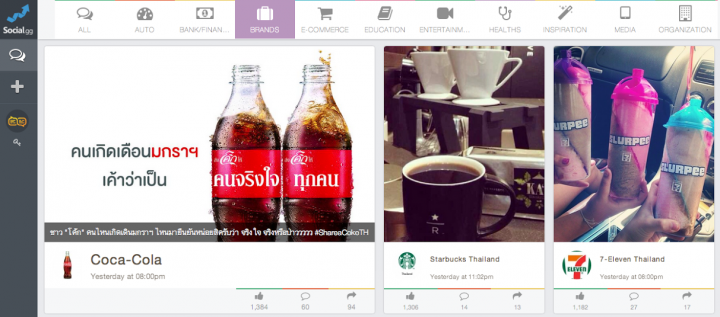 Social media is big in Thailand. Over 24 million Facebook users live in the country, and Bangkok has more Facebook users than any other city in the world. In addition, Facebook commerce, or F-commerce, was one of biggest booming trends in the country last year. With these facts in mind, it'd be a big oversight for brands and marketers to ignore the opportunity to tap into such a large audience. To that end, Social.gg was launched as a tool that can help users explore trends and hot topics on social media in Thailand.
Facebook trending topics
Available to the public for free, Social.gg gathers various trends on Facebook, in which users can check what the hottest topics of the moment are. This is similar to Google Trends or Twitter's trending topics.
The trending topics on Facebook are classified into 20 categories such as banking, travelling, vehicles, education, healthcare, and more. This enables enterprises to check and understand the market direction in order to adapt their marketing tactics and strategy accordingly.
Social.gg is an SaaS platform created by Computerlogy, the company that got $1 million investment from InVent last year. Computerlogy also develops and owns a social media management tool Social Enable.
Vachara Aemavat, CEO and co-founder of Computerlogy explained the logic behind Social.gg:
Social.gg has been developed to help avoid missing out certain important events or "The Fear of Missing Out" (FOMO). At this moment we initiate launching in Thailand and also have plans to expand into other countries.
Expansion plan
As of right now, Social.gg is available in Thailand and in English only. However, the company plans to support Thai, Bahasa, and Vietnamese soon. It plans to expand to Vietnam, Indonesia, Malaysia, and Singapore in the future.
Vachara told Tech in Asia that Instagram is the second priority for Social.gg after it covers all the AEC countries. Then Instagram is the logical next step, considering Thai people are crazy about the social sharing platform.
In addition to the free service, the startup will release a paid subscription with advanced features for clients who need more insight.
(Editing by Paul Bischoff)