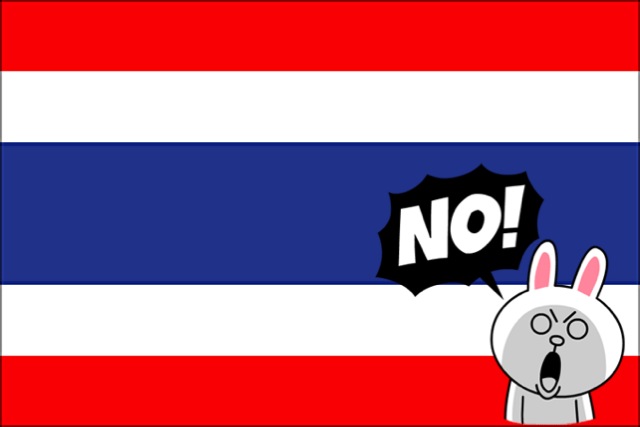 Last week, Thai police summoned four suspects for allegedly breaching Article 14 of the National Computer Act and Article 116 of of the Criminal Law of Thailand for posting coup rumors on Facebook and allegedly thereby "causing panic". In addition, for those who like or share the message could be considered as a violation to the laws as well and can be jailed, if found guilty.
(Update: The latest is that the Thai PM doesn't really "know" about the details of the Line privacy invasion yet. After the cabinet meeting, she talked about how the Technology Crime Suppression Division (TCSD) plans to check on Thai citizens' Line conversations, but said she hasn't been clearly informed on this matter yet. However, she wants to guarantee that Thai citizens' rights are not being invaded. Line app is not a threat to the country, she said, and if the police wants to check on anyone, it will be on case-by-case basis. In addition, Oak Pantongtae Shinawatra, the son of former PM Thaksin Shinawatra and therefore someone that the country's 'red shirt' faction listens to, also stated that he doesn't support this initiative as he sees Line as a communication medium where it's an individuals' responsibility not to break the laws. However, the police should not be invading people's privacy.)
Today, the police led by Pol Maj Ge Pisit Pao-in, commander of the Technology Crime Suppression Division (TCSD) announced the plan to check on Thai citizens' Line conversations. Latest news from mthai confirms that the police agency had asked Line Corporation in Japan to cooperate. If it agrees, all 15 million Line user names in Thailand, along with our conversations will be sent to the police.
The Nation reported that the Police had requested the same with other social network websites, Whatsapp, Facebook, Twitter, etc, but had failed with other operators as they were mostly from the US and did not allow such investigation.
The police claims this is just a pre-caution act as more Thai people are on the social networks. After all, it's the police authorities job to see if anyone violates the law or threatens national security.
Of course, this announcement caused such outrage on the online community as Thais feel it violates their rights. I have seen complaints all over my Facebook feed and Twitter Timeline. Some even commented that they'd consider other social chats such as Whatsapp and WeChat as their alternative if their Line accounts are being watched. Thai's social media influencers, Kafaak and YokeKung are among the first who show their concerns on this matter.
(Editing by Anh-Minh Do)