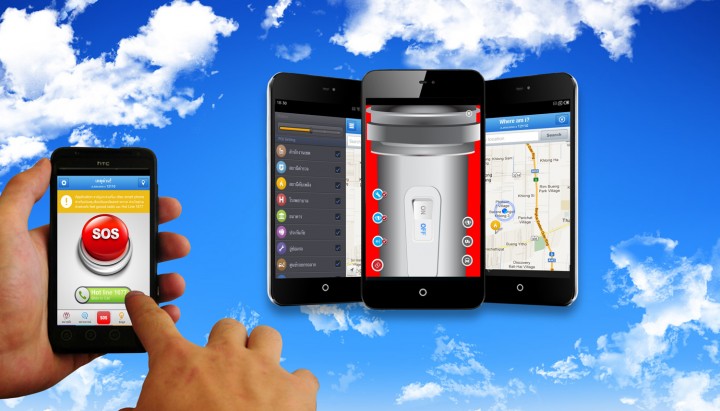 Back in February, Ruam Duay Chuay Kan or "Uniting to help each other" in Thai, an organization with a mission to help develop the Thai society to be a society of generosity, compassion and mutual assistance, partnered with Dtac, a Thai telco, to launch the Ruam Duay Chuay Kan, an emergency assistant app. Today, it announced its upgrade to further enhance the app by providing emergency assistance to foreigners in nine languages: English, Chinese, Japanese, Myanmar, Lao, Khmer, Malay, Indonesian, and Jawi.
According to Jon Eddy Abdullah, CEO of Dtac, this is an initiative to prepare for the ASEAN Economic Community (AEC). This also helps Dtac get ready for 24 million tourists forecasted to visit Thailand in 2013 and more than 1.1 million expats working in Thailand.
The app helps users contact Ruam Duay Chuay Kan's hotline (dial 1677 from within Thailand) using an SOS button to report incidents and request emergency assistance 24 hours a day. When the SOS button is pressed, a very loud noise will come out as a call for help, and the system will automatically send SMS to three previously designated numbers.
Other functions of the app are:
News Feeding : Users can report traffic, crime, and accidents by uploading pictures and providing details such as location. They can also use this menu to request assistance from volunteers or rescue teams that are in close proximity.
Where Am I? : Users can use this service when they have lost their way while driving or travelling. Users will be provided with details of the location as well as telephone numbers of important places such as hospitals, police stations, petrol stations and rescue units.
Online Radio: This function is for connecting and listening to the Ruam Duay Chuay Kan radio.
The app has been downloaded 70,000 times so far. It's available on iOS and Android.
(Editing by Paul Bischoff)