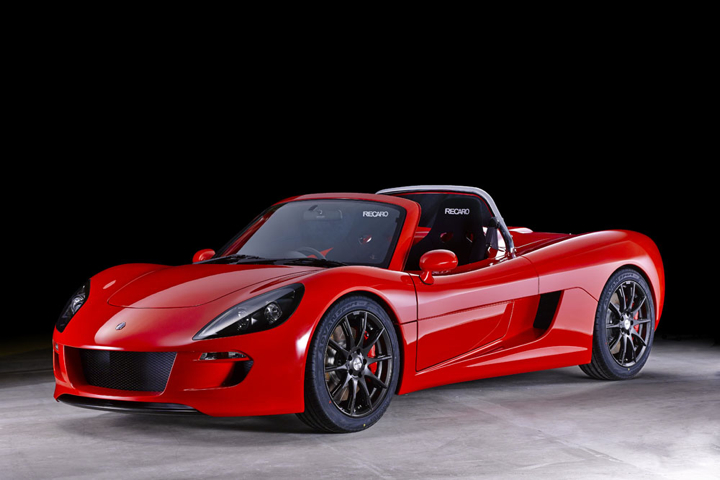 Imagine a future where electric vehicles (EV) are sold en masse by mid-size manufacturers and can be customized to the point that every customer could have not only their preferred paint job but even a unique body. Hiroyasu Koma, the owner of Japan's GLM, believes that he can turn this idea into reality.
Three years after founding GLM, Koma is well on his way. The Kyoto-based manufacturer developed a factory from scratch, secured the necessary regulatory approvals, and even patented its highly adaptable chassis (the underpart frame of a car). The startup's first car is released in association with noted Japanese racing car manufactuer Tommykaira, which was founded in 1968. The electric sports car is sold as the EV version of the iconic Tommykaira ZZ (pictured). That makes GLM more of a coach-building company than a car brand.
The ZZ EV sports cars can clear 100kph (62mph) in 3.9 seconds, keeping it essentially in a dead heat with the Tesla Roadster and making it faster than the Tesla Model S. Production of the Tommykaira ZZ EV was announced in December 2013 following a US$6 million funding round which featured Mitsubishi Capital, Globis Capital Partners, and the Japan Finance Corporation, which is the Japanese government's public investment arm. The cars have completely sold out, but GLM confirmed earlier this month it will start mass production of the EV.
Koma is ready to move fast. He tells Tech in Asia that he hopes to start selling the car globally in 2015, citing Europe, Malaysia, and Taiwan as prime targets. That expansion will necessitate a further round of funding, likely US$10 million according to Koma's estimates.
Sizing up the opportunity
Challenging Japan's legacy automobile manufacturers may seem like a fool's errand to some but Koma is confident that their present strength is an inaccurate harbinger of future profits. When he was managing his first startup – Koma Enterprises an outsourcing company for electronic makers – he saw other Japanese giants ceding market share to new rivals. "Overseas manufacturers started growing while Japanese manufacturers shrunk […] I thought that car manufacturing could end up the same way," he said. He decided to take advantage of the future potential and jump into the industry.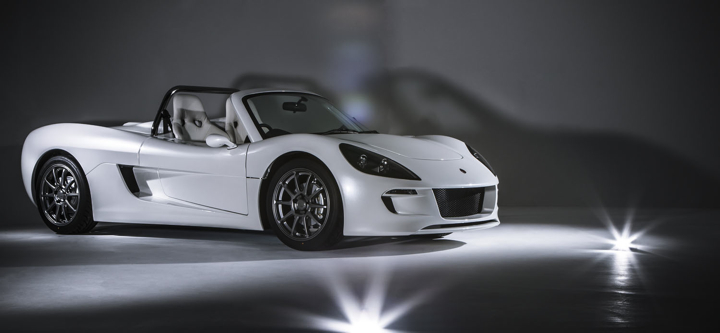 Unfortunately for Koma, his foresight did not come with technical knowledge. The first three years of the company were spent learning Japan's rigorous automobile standards and designing vehicles that would pass inspection. The company stayed afloat via cash infusions from angel investors and received its national certification in 2012.
The sticker price for the electric Tommykaira ZZ is approximately US$80,000. Koma is content to cater to elite clientele even though the business strategy is not sufficient for maintaining the company. Koma instead intends to rely on the company's patents to grow a steady revenue stream. With a patent for building a body-less chassis, GLM's knowledge is available, for a price.
See: South Korea developed an electric car that folds itself in half
Vehicular Androids
Elon Musk made waves earlier this year when he announced that he would make all of Tesla's patents free to use. Koma is not so altruistic but maintains his patent acts as a blueprint for the hardest part of car manufacturing, crafting the undercarriage. He intends to license a package of the patent design and the company's EV powertrain (motor, battery, etc.) to modestly scaled manufacturers which will then be able to lower development costs. Though the chassis remains unchanged, each manufacturer (or the customer) can then alter the body of the car itself.
Essentially, Koma is bringing the Android OS battle plan to the automobile industry. The Android strategy was almost a necessity because the fledgling OS faced competition from many legacy players and was initially dwarfed by its direct counterpart, Apple's iOS. Similarly, GLM finds itself in a spot familiar to innovative companies – with few allies and staring down giants who can manipulate circumstances to their own favor.
In oil-poor Japan, however, there are some realities that no amount of lobbying dollars can distort. According to a 2013 IEA study, by the year 2020, 2.4 million slow chargers and 6,000 fast chargers will be established around the world. Japan will account for 2 million and 5,000 chargers respectively. Echoing shades of the company's founding, if GLM can execute the business strategy, a government-funded infrastructure should be waiting in support.
Top image via Flickr user byronv2

9月3日と4日にスタートアップアジア@東京を開催します!割引コード < TECHINASIA >を使ってみて下さい!
Startup Asia Tokyo 2014 is on Sep 3 and 4. Unlock secret level using code < TECHINASIA >