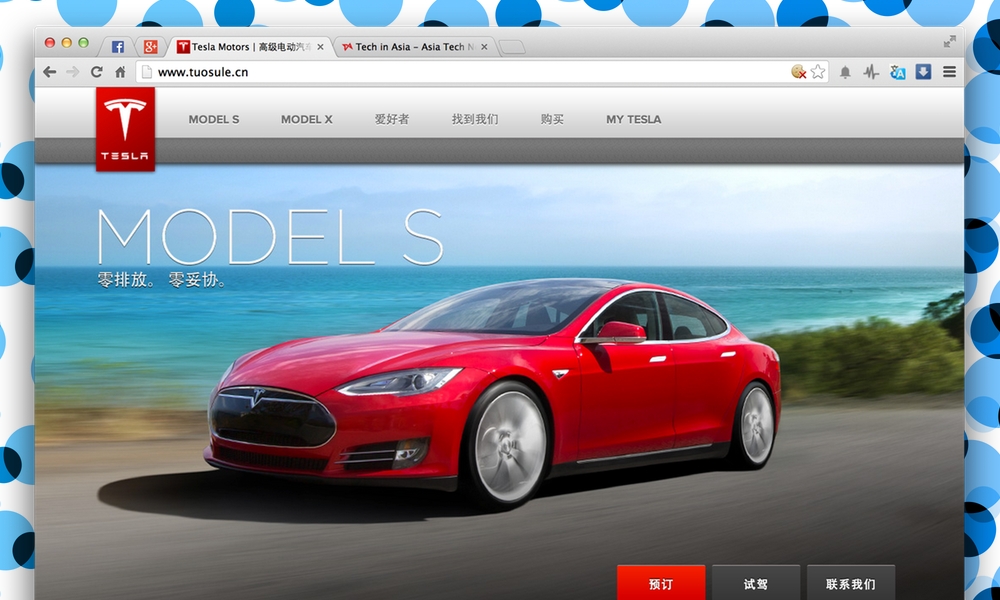 With Tesla's (NASDAQ:TSLA) all-electric cars due to hit China's roads in February 2014, the US automaker has today launched a special homepage for the China market.
The new Tesla China site is at Tuosule.cn. Remember that Tesla Motors has lost the rights to its English name in China due to a copyright troll who claims he's using the moniker in his own EV research. As a result, Tesla goes by the name Tuosule in China, which is a close phonetic transcription of 'Tesla' in Chinese (the exact name in Chinese is 特斯拉, which ought to be written out as 'Te si la'). Both tesla.com.cn and tesla.cn are taken but remain blank.
Tesla started taking pre-orders in China for the Model S sedan in August this year, and the new site makes it easier by putting that pre-order process online. The Tesla China site is also taking bookings for the upcoming Model X, which is a sedan-SUV crossover planned for late 2014. Both require a modest RMB 250,000 ($41,000) down-payment, but that's far from the final price.
(Read: Why Tesla's electric car could really work in China)
(Hat-tip to Technode for spotting this)
(Editing by Paul Bischoff)