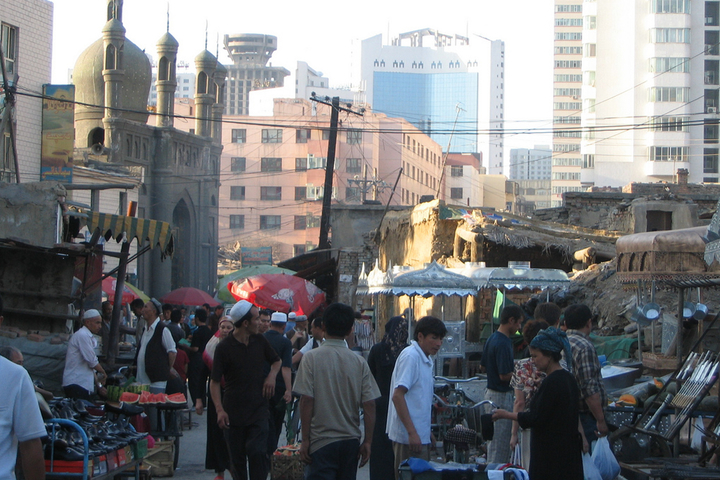 Multiple reports coming from China's restive Xinjiang Autonomous Region indicate that an alleged terrorist attack in the regional capital of Urumqi has left more than 30 dead and nearly 100 injured. China already severely restricts internet usage behind the so-called Great Firewall, but residents in Xinjiang are preparing themselves to lose access entirely.
speedy collection of photos from scene of latest Urumqi blast on Sina http://t.co/nCSG27UMkW pic.twitter.com/P244kLg92R

— Chua Chin Hon (@chinhon) May 22, 2014
Clashes between local Han Chinese and Uyghurs, a predominantly Muslim minority with roots in western China, left 184 dead in Urumqi back in 2009 and led the Chinese government to completely shut down internet access for 10 months. Ethnic tensions have reached a critical level in China after a bombing in Tiananmen Square last October and a March knife attack in Kunming were linked to Uyghur separatists. Today's attack may be the last straw when it comes to web access for those living in Urumqi and surrounding areas.
Life without internet in much of Xinjiang led to an interesting phenomenon in 2009 – an internet cafe border town to the east where residents of web-restricted areas could touch base with friends and family.
At the time of posting, residents of Xinjiang were still able to access the internet, but some expect that to change soon.
"I'm scared, I'm rushing to contact my family and friends," Vinire Upur, a Uyghur woman studying in Tokyo, told Tech in Asia. "I have a feeling they will turn it off by the end of the day. I'm sure once they cut the internet off they will cut overseas calls as well. I'm so far away and I want to be there."
Others aren't so sure if the latest attack will lead officials to flick the off switch.
"[Today's] act was carried out by few individuals, unlike the [2009 riots], so cutting off the internet is not going to improve the situation," said Hiroshi Kuwae, a restaurant owner living just blocks away from the blasts. "They have done it in the past and did not seem to work, so I pretty much doubt they will shut it down. Besides, our society depends more on the internet than it did back in the summer of 2009."
This post will be updated as more information becomes available.