Remember Apple's trademark battle with Chinese company Proview, which registered the Chinese trademark for iPad? Well it looks like Tencent could be in for a trademark battle of its very own over Weixin, the Chinese name for its popular messaging app WeChat. It turns out that lots of companies registered the Weixin name before Tencent, but the relevant trademarks — those for the telecommunications field — were registered by a small Beijing company just one week before Tencent's application was filed.
Observe, if you will, the dates in the trademark applications below (they're in the upper right of each application). You'll see that Tencent's application (right) was filed on January 24, 2011, but an application for the "Weixin" name had already been filed by a company called Beijing Lianzhi Zhaoyang Cultural Dissemination LLC on January 17.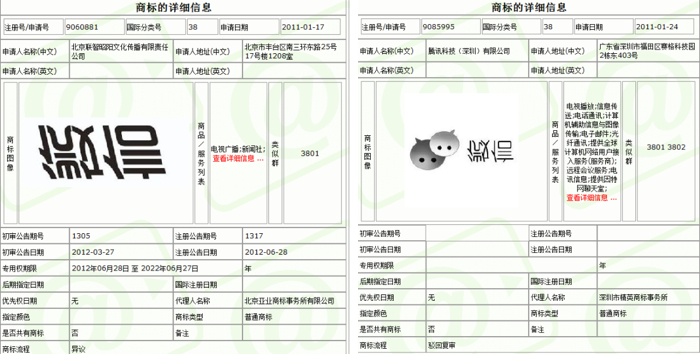 This certainly seems like a case of trademark trolling, and while we don't want to jump to too many conclusions, I rather doubt that the timing of these applications is a coincidence. Troll or no, though, it looks like Tencent may have to deal with the Beijing company to secure its trademark, and that could mean giving away a big lump of cash. Still, the company doesn't have much other choice at this point; the service is already branded domestically as Weixin, and a name change now could negatively impact the service's skyrocketing growth.
[via Sina Tech]