We have written a lot about WeChat, Tencent's mobile chat app (it's called Weixin in China). As its user count grows, it's beginning to get a lot of attention elsewhere, too. Interestingly, though, lots of people see Weixin as a threat.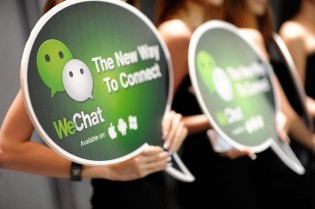 Many of our readers have probably already come across this article in The Guardian, which paints the service as a threat to dissidents in China in part because it can report location data in addition to whatever is being said. And while it seems new and hip, dissident Hu Jia is quoted as saying that the guobao — the police in charge of China's internal security — are on WeChat in full force already, and were able to quote messages that he had sent via the service verbatim.
That WeChat, like all domestic social media, poses a security risk to dissidents should not come as a surprise. Nor is it particularly surprising that countries like Taiwan are concerned about the potential security implications of the service. But interestingly, Chinese authorities see the service as something of a threat as well. On Sunday evening, state-run broadcaster CCTV ran a feature piece about the dangers of WeChat, focusing primarily on how its anonymity and location-reporting features can give criminals an easy in. For example, the report told the story of Xu Xiaohong, a single woman who was ultimately ambushed and murdered when a man she met on WeChat attempted to rob her. He knew where she was, and when she was going to be there, because of WeChat.
And WeChat-related crimes are apparently quite common. In one three month span in the city of Hangzhou, for example, authorities say that the service was used in more than twenty crimes. That was around one year ago; the service is far more popular today and is likely used as a tool in far more crimes.
Of course, any chat tool can be used to perpetrate fraud, robbery, and other crimes, and many Chinese commenters have already pointed out that the CCTV seems to be unnecessarily blaming WeChat for the faults of its users. And it's worth mentioning that the app does have a warning message reminding users not to trust strangers when they first engage its find-users-in-my-vicinity feature. Still, though, it's clear the location reporting has made a lot of people nervous. Expectations of privacy in China can be lower than they are in some Western countries (if you'll forgive the sweeping generalization), so it is interesting to see that WeChat's location-reporting unnerves both China's dissidents and its police. The concerns of those groups don't seem to have had much effect on regular users, though, who are still signing up at an impressive clip.