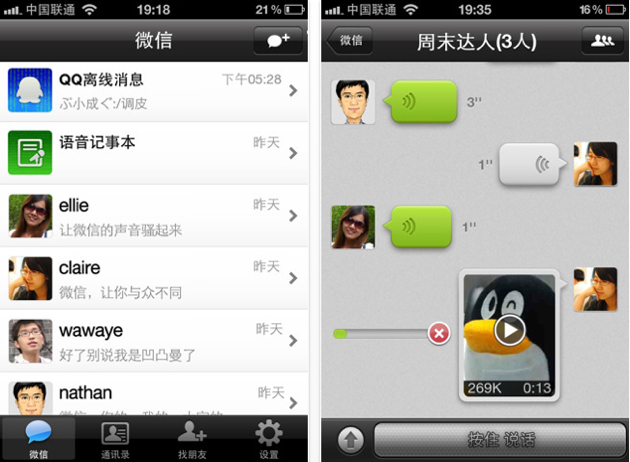 Tencent has updated the iPhone version of its Weixin group messaging app with support for video messages and a location-based service (LBS) type function to find nearby users.
Weixin's new version 2.5 brings these two new features first to its iPhone app, leaving its Android variant to play catch-up. As with most group messaging apps – such as Kik and WhatsApp – Tencent's allows users to send free multimedia messages to friends who also use Weixin. But both users need to be online, using GRPS, 3G, or wifi.
Tencent is touting the data compressions skills of the Weixin app, so that a short video of under a minute can be compacted down to less than 1MB in size, to spare GPRS and 3G users from using up too much of their (usually limited) data plans.
In the new update, the Weixin app also supports sign-up with only a phone number, meaning that a QQ number is no longer a pre-requisite. This'll also allow the app to integrate better with your phone's address book, which can spot friends who've also signed up to Weixin using their number.
There are some similarly good-looking and full-featured Chinese group messaging rivals to Weixin, such as Xiaomi's Miliao app. Indeed, Miliao comes with English support, so it's more accessible to international users.
Tencent has been working its app developers pretty hard in the past few months – they've added video chat support to QQ for Mac, done the same thing for their Android IM app, and launched a competitor to Apple's FaceTime that allows free video calls between smartphones.
The Weixin app is available in the iTunes App Store, the Android Market, and also on the Weixin homepage if you need the Symbian versions.