Much of the social media buzz in China – and a lot of our own coverage – is about Sina Weibo. But it's worth remembering that one other Twitter-esque site in the country is technically larger: Tencent Weibo. Yesterday, Marbridge Daily spotted that Tencent's (HKG:0700) manager of its Weibo division, Xing Hongyu, said that his service reached 540 million registered users at the end of 2012. That exceeds the 400 million on Sina Weibo in the third quarter of last year.
While that's all very nice for Tencent Weibo, it still doesn't change the fact that it's not as cool as Sina's (NASDAQ:SINA) offering. And, more importantly, Sina Weibo has more active users:

Thanks to We Are Social for the graphics. Yes, at 2012 Q3, Tencent Weibo had 10 million fewer active users a few months back. Xing Hongyu also revealed yesterday that Tencent Weibo has 100 million daily active users.
But the main reason for all the buzz going to Sina Weibo is the nature of its user-base. That's because Sina's users are mostly living in China's wealthiest cities (tier one and two areas, from Beijing to Wuhan, Shanghai to Hangzhou), while Tencent Weibo's users are in poorer cities or rural areas, and are not worth as much for social media marketing and are not the kind of folks who can set the national agenda when discussing issues online. Here's the comparison: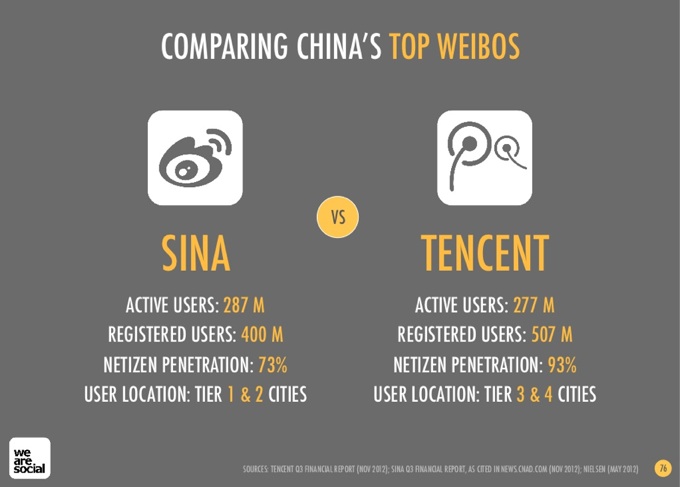 Of course, Tencent Weibo does do some cool things; its coordinated approach to the London Olympics coverage was fun and popular, and you can even buy cars directly within the social service. But its Sina rival remains the "Weibo" that people are actually talking about.