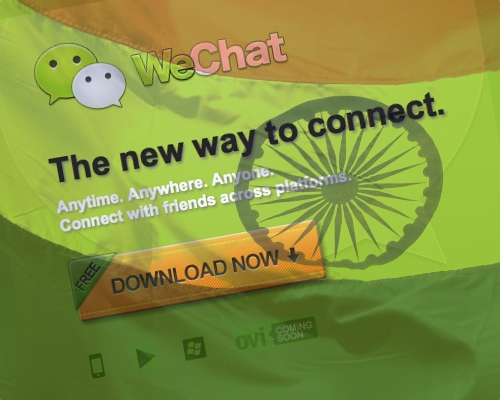 As if 100 million users isn't enough for the world's biggest group messaging app, now Tencent (HKG:0700) is pushing its WeChat into India thanks to a promotional deal with Indian gaming site Ibibo. Tencent actually owns a 20 percent stake in Ibibo, so the choice of partner isn't really a surprise.
WeChat – formerly called Weixin when it was initially focused only on the Chinese market – supports text-, photo-, and voice-messaging between two or more friends, in the manner of Whatsapp or Korea's KakaoTalk. It now supports seven languages – though none of those are Indian ones – and is being marketed on Facebook pretty strongly at present. There's even a dedicated WeChat India page, which currently has nearly 10,000 'likes.'
Ibibo CEO Ashish Kashyap told the Indian tech blog Medianama that WeChat is being launched as a part of its social portfolio of apps, alongside the game portal's iBrowser which was made with Tencent, and is actually based on the latter's QQ Browser.
Browsing through Ibibo, I notice that WeChat is not hosted on the site but is instead being featured in some fairly noticeable banner ads that lead to the new WeChat global homepage, which is at Wechatapp.com. WeChat has versions for iOS, Android, and Windows Phone, with an iteration for Symbian coming soon. Eventually being on Nokia's platform will certainly help the app reach more people in India where smartphones haven't yet gained so much traction as in China.
Tencent's 20 percent stake in Ibibo could be upped to 50 percent if it takes up that particular option in its current deal. With Tencent increasingly focusing on emerging, mobile-oriented nations like India and Indonesia, it might be a wise move to make.
[Source: Medianama]