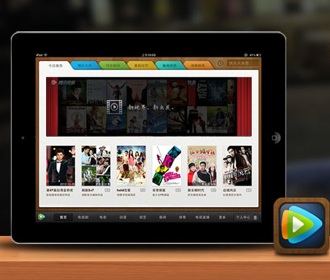 In an all-too-rare instance of web companies and content providers teaming up to give users exactly what they want, China's video sites are currently thriving, packed full of legit and fully licensed movies and TV shows from across the globe to watch, on-demand, and mostly for free. It's somewhat ironic that Chinese web users will find it easier to stream the latest episode of Breaking Bad or watch the entire back-catalog of House, or view a recent Hollywood blockbuster, than their counterparts in the US.
Among the many strong contenders are video-streaming services from Chinese web giants such as Baidu (iQiyi), Sohu (Sohu TV), Youku, LeTV, PPS, and – the nation's biggest online company – Tencent (HKG:0700), with its Tencent Video portal at V.QQ.com. To get a sense of the scale of Tencent Video, and why it even needs to compete in this pricey and crowded sector in the first place, we talked to Alex Liu (pictured below), general manager of Tencent's online video department.
Alex states that Tencent Video is no longer playing catch-up, and is already a top choice for Chinese viewers:
iResearch's UserTracker September 2012 report on video sites for web and PC clients shows Tencent's 275 million monthly user coverage was more than Youku's 266 million, making Tencent Video the number one platform in the industry. [… And] the October monthly coverage was 272 million, leading Youku again by six million.
There are a lot of metrics out there, of course. [UPDATE: It's also worth noting that the iResearch data mentioned above does not include mobile/app views, so it's not a full reflection of the market. Factoring in mobile video views, Tencent Video might not be top]. When we last got a sneak peak at some ComScore data a few months ago, it showed that the stickiest video streaming site in China, in terms of viewing time, was Youku, which was being used for 698 million hours of web video viewing. Tencent Video was third with 474 million hours of eye-ball time. But Tencent's portal looks to be growing with the strongest year-long growth in the industry by iResearch's stats [1]. In terms of importance, Tencent recently declared web video, among its very many products, to be one of its top five goals.
To Hollywood and beyond
Aside from all the stats, what these video sites need is quality, big-name content to bring in viewers – viewers who are dissatisfied with the dull and safe programming on CCTV, the state TV broadcaster. That means things that young Chinese really want to see (unlike CCTV), such as Korean romantic series, Taiwanese game-shows, American dramas, topical Chinese dramas and comedies, new Hollywood movies, the latest manga. And all that will bring in advertisers. Alex explains:
Tencent Video has always emphasized the importance of investing in the [broadcast] rights to TV series to create a TV viewing platform with diverse, high-quality content, and broad, total coverage. Tencent video already has 61 TV series with more than 100,000,000 plays, and our coverage includes 85 percent of the year's popular TV content. In 2013, Tencent video wants to cover 80 percent of the content on the top satellite TV stations, plus have exclusives each month, and we've already signed agreements with 15 hot shows.
That extends even to Hollywood and other nations:
As far as overseas content, Tencent Video's Hollywood film theater is already online, including nearly 400 films across 20 genres. We also have 24 series and more than 1,000 episodes of American TV on Tencent Video, including a worldwide web exclusive for the first 13 seasons of CSI, and 500 episodes of Korean soaps from MBC will also be exclusively shown on Tencent Video.
Self-produced shows
All these video-streaming rivals have pushed up the price of web broadcast rights in China, with 30 episodes of one Chinese drama costing as much as $4.6 million last year. Many sites are therefore producing their own content – even dramas – to bring in viewers. Alex adds:
Original content has always been a source of competitive strength for Tencent, and was established early on as one of Tencent video's strategic directions. At present, Tencent video has successively released [lots of Chinese dramas] and other news, sports, entertainment, and finance; plus Tencent original programs. [… We're] planning "Burst Forth 2013," a strategic plan to produce 100 microfilms and 100 web series over the course of the year.
Mobile cinema
Tencent – which also makes the huge messaging app WeChat, which it has launched worldwide – is the nation's biggest web company by revenue – and by the sheer weight of registered users. Its QQ instant-messenger is used, it's no exaggeration to say, by pretty much everyone in China. That gives the video portal a big boost in terms of reputation, already registered users, traffic, and its perceived power as an advertising platform. Alex insists it's a "dual platform for marketing" that includes displaying ads on the Tencent Video mobile apps (for Android, WP, iPhone, and iPad), the Windows PC app, and of course on the website too. But Alex won't be drawn to give a number for how many video views come from the smartphone and tablet apps.
The V.QQ.com site is different from Baidu's iQiyi – and Hulu – in also having user-generated content (UGC) in the form of videos, but, we're told, "less than 10 percent of Tencent Video is UGC." It's mostly social stuff that comes from the company's many social services, such as WeChat, QQ, QZone, or the Facebook-esque Pengyou.
Paying up?
Although Tencent doesn't lack the resources to buy all this content or monetize the videos from advertising, some of the streaming content requires a small fee to watch – usually as little as 2.5 or 5 RMB (40 to 80 US cents). We've seen the web company do this kind of thing for a long time, including on QQ where it has 30 million paying members. For the video site, the payment experiment is still very new, launched last month to coincide with the new "Hollywood film" section of the portal, here. Alex explains more fully:
Tencent Video is currently testing the waters of the user payment model. This November when we were pushing out the Hollywood theater [section], we tested user payment models, asking between 2.5 and 5 RMB for each film, or 20 RMB [$3.20] for a month of membership to watch unlimited movies. Through the implementation of this user payment model, Tencent Video will give users the newest, the hottest, and the most classic Hollywood films, to give users an exclusive platform for a Hollywood-level experience.

At present the films there include Clash of the Titans, Inception, Green Lantern, and more including animation, science fiction, comedy, and also thrillers among 20 total genres and 400 high-definition North American films. Taking this year's Oscar contender Argo as an example, it premiered on October 12th in the US, November 15th in Hong Kong, and then just 40 days after the initial premiere it was first available on Tencent Video on November 21st, breaking a new record for online arrival speed.
Despite Chinese web users being very used to e-commerce and paying for things online, it can be more of a challenge to get them to cough up for digital content. Nonetheless, a very reasonable price coupled with a quick roll-out (and better streaming quality than pirated movies), should help to make it a persuasive and attractive proposition.
We've seen rival site Youku do the same kind of thing with its Youku Premium channel that focuses on top movies. Back in June of last year, Youku revealed that it had seen two million paid transactions (Update: Corrected this number) for its library of more than 300 movies. That sounds pretty good, but it's a small fraction of the hundreds of million of visitors to these kinds of sites.
For China-based fans of films and TV series, they have more high-quality choice online than ever before – all while having to endure less ads than on TV. And that sounds like a great reason to turn off the TV and tune into the web.
Big thanks to my colleague Charlie for Chinese-to-English translations!
---
Youku prefers using Analysys International data, while Tencent seems to favor iResearch. Some like ComScore. Swings and roundabouts.  ↩