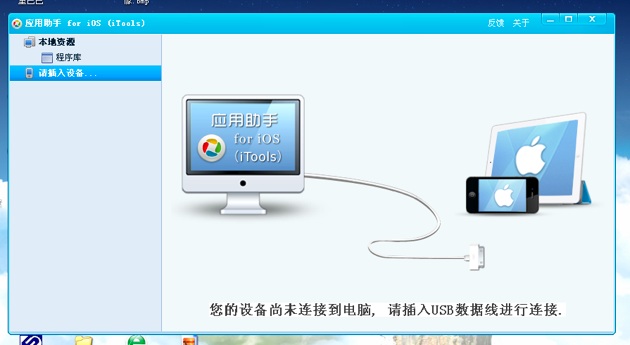 Tencent (HKG:0700), China's social media giant, has thumbed its nose at Apple (NASDAQ:AAPL) by releasing a desktop 'App Assistant for iPhone' (pictured above) that effectively replaces iTunes. Tencent's new app syncs iPhones, iPads, and even any iPod Touch with Windows PCs, transferring over your mp3s, e-books, photos, contacts, and apps. As a bonus feature, it makes Apple's new CEO, Tim Cook, swear like a fisherman in a storm.
The new App Assistant for iPhone was launched as an early beta late last week, and follows a similar foray into mobile syncing territory by the company with its 'Assistant for Android' phones, which we looked at back in August.
It's not clear if Tencent's new syncing app facilitates jailbreaking and pirating of iOS apps. But the fact that it boasts of easy "one-click installation of '.ipa' files" is a clue that it's not exactly resistant to pirated apps.
We've already seen that phenomenon from the iTools app from a Shenzhen web company that actually guides you through the jailbreak process. Bizarrely, Tencent's app seems to have been given the 'iTools' nickname – as seen on its homepage – suggesting that Tencent (which is often mocked in China for being unoriginal) has lifted the name from the smaller Shenzhen team. Tencent's syncing products also very closely resemble a longer-standing Chinese app called Peapod, which hooks-up and syncs Windows and Android devices.
iTunes is already offered with a Chinese localisation, and a (limited) official Chinese app store, but that doesn't seem to have stopped these handful of alternatives from emerging. This is perhaps a by-product of the huge number of grey-import (and, by extension, very likely jailbroken) devices circulating in China, which float freely outside of Apple's usually very locked-down ecosystem. Indeed, China Mobile (NYSE:CHL; HKG:0941) claims to have just over 10 million iPhone users, despite not even being the Apple-sanctioned carrier in the country.
Although Apple once exhorted people, with a cavalier approach to adverbs, to "think different," I don't think this is what the departed Steve Jobs had in mind.
Check out the App Assistant for iPhone on its homepage. It's available for Windows only.