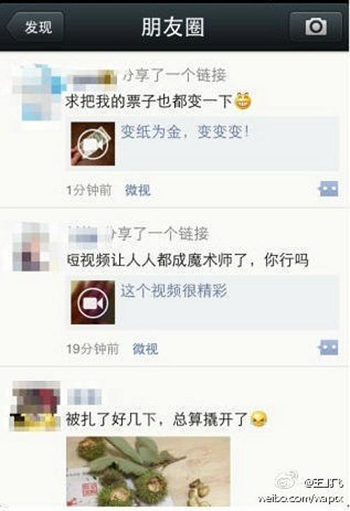 Word leaked today that Chinese web giant Tencent (HKG:0700) has a clone of Vine now in closed-beta testing. The eight-second video sharing platform will integrate with both Tencent Weibo and WeChat, China's most popular messaging app.
Tencent isn't the first to copy Twitter's Vine in China. The founders of YouTube earlier this year released Wanpai, which we actually thought was better than its inspiration. Wanpai can be used on Sina Weibo, Tencent Weibo, and Renren. Sina (NASDAQ:SINA) is still without a vine clone of its own, however, the company has a somewhat similar video sharing app called Sina Paike without time limits on videos.
Tencent's upcoming project goes by the working title "Weishi" (微视). It released a Skype-like product of the same name a couple years ago. The previous version supported Tencent QQ applications for video calls. Tencent assured the press that the new Weishi is a completely different project.
WeChat already supports video messaging, so Weishi will probably be used for it's Facebook Timeline-like Moments section inside WeChat.
(Editing by Steven Millward)