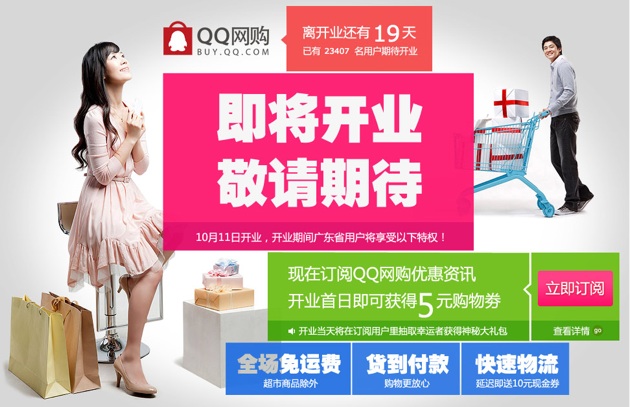 Tencent's (HKG:0700) upcoming B2C open platform now has a name, URL, and firm launch date. Dubbed QQ Buy, and for the moment at the second-level domain Buy.qq.com, it's set for a tiered launch in some provinces in China starting October 11th.
The website is up already. but only running a promo page (pictured above) with a launch-date ticker. It also shows a scrolling gallery of global brands that will be featured across its numerous B2C stores. It doesn't mention which other e-commerce sites will be jumping onto its platform, though Tencent has confirmed with Penn-Olson that six are lined up so far: OKBuy, WalMart-backed YiHaoDian, 51Buy, V+, Kela, and TianTian. They're presumably all keen to take advantage of a storefront on their larger rival.
On Monday, the market leader, TMall – an Alibaba (HKG:1688) product – announced its own open platform, with 38 fellow e-commerce sites getting flagship stores. Although the announcements come a mere three days apart, Tencent is actually a full three years behind the e-commerce forerunner in China. TMall launched in 2008 (initially as a part of Taobao.com), and got its own domain in November of last year.
It marks a growing rivalry between two of China's web giants that were previously in very separate areas – Tencent in IM and social networking; Alibaba in B2C and C2C. But both companies are spreading their wings and invading each other's space more and more: first Tencent with its tentative first step into C2C e-commerce with PaiPai; and Alibaba getting more social with its AliYun mobile OS.
Alibaba CEO Jack Ma said recently that he likes to give rivals sleepless nights, which in turn benefits society through price cuts and better service. Tencent will be hoping to make Mr Ma sleep less well once Buy.QQ.com gets into full swing. Place your bets in the comments below.