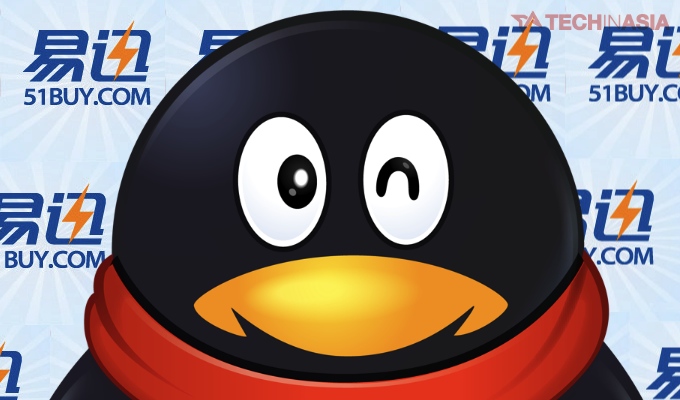 Tencent's (HKG:0700) "QQ" brand might be China's first household name that emerged from the web – along with its iconic penguin – but the cutesy name has not been much help in the nation's cut-throat e-commerce market. And so Tencent is rumored to be ditching the "QQ Buy" branding on its B2C online mall (which came late to the scene, launching just over a year ago) and instead running with the 51Buy moniker of its successful subsidiary.
Tencent first invested in startup 51Buy – which is like a mini Amazon, focusing on selling electronics – in 2011, and then earlier this year upped its stake to 80 percent. Tencent's own QQ Buy runs in direct competition to its subsidiary. And while the web giant's e-commerce effort does have greater market share than 51Buy (see the graph below), it's the smaller store that's said to have stronger traction and a better reputation with Chinese consumers.
According to Chinese business site 21CBH, sources at Tencent say that 51Buy is doing well in this tough industry to be actually making money, averaging a profit margin of 1.5 percent to 3 percent, and generating daily sales revenue of RMB 20 million (US$3.2 million) on average. The insider source added, "The trade volume on 51buy.com is tenfold of that on buy.QQ.com." That's quite remarkable given that Tencent's store has slowly risen up to be China's third-largest B2C e-commerce site, albeit with a modest 3.6 percent market share. 51Buy, meanwhile, is down with the 'others' fighting over the scraps in a sector dominated by Tmall and 360Buy.
So, while the QQ name and its little penguin have worked wonders in Tencent's social and gaming efforts, it looks possible that the company will opt for a newer name, and a blank slate, as it tackles China's vicious B2C market.
[Source: 21CBH (site currently offline, so can't find URL), via related site MorningWhistle]