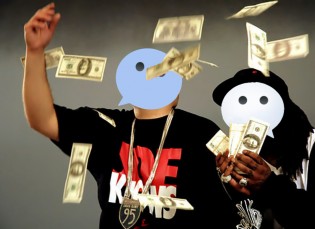 Tencent's WeChat mobile chat application has been taking the world — especially China — by storm. But as Tencent knows from watching Sina Weibo, user numbers doesn't always translate into revenue. So how is the penguin-loving tech giant planning to turn WeChat from a chat machine into a cash machine? According to some company insiders, Tencent will be making a three-pronged attack using online-to-offline e-commerce, added-value services, and games.
Online-to-offline e-commerce WeChat integration will be tackled (unsurprisingly) by Tencent's group buying team. It has already integrated a couple things into the service including a WeChat members card, with which you can get prizes and small discounts for following specific merchants, and a daily deals service through the official WeiTuanGou account.
(As a side note, Online-to-offline e-commerce is often referred to as "O2O," but I refuse to use that term on the grounds that it is idiotic to use one letter to signify two different words in the same acronym.)
Added-value services could include a lot of things. It's likely, for example, that WeChat will sell special stickers and emoticons for use in chats. It could also make a more comprehensive set of services and sell them bundled through a membership subscription or something of that nature.
Games, of course, are self explanatory, and we've already talked about how WeChat's gaming platform is going to work when it comes out soon and even taken a look at one early way to play HTML5 games within the WeChat app.
The inspiration for quite a bit of this is obviously KakaoTalk, the Korean chat app that already offers a robust gaming platform. Tencent invested 400 million RMB ($61 million) in KakaoTalk last year, and it has obviously been watching its development closely.
One thing WeChat won't be doing for monetization is ads, though, as Tencent director Liu Chiping says succeeding with an advertising model can be difficult on mobile because screens are too small and ads eat up too much bandwidth.
(via Sina Tech)