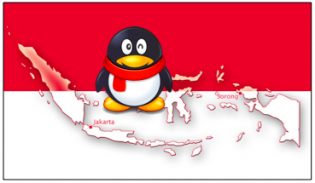 Today, China's internet giant Tencent (HKG:0700) and Indonesian company MNC Media announced that they have made a joint-venture company called MNC Tencent to tap further into Indonesia's online market. During a press conference this morning in Jakarta, both companies also shared a few updates and statistics regarding messaging app WeChat in Indonesia.
Usually, Tencent explained, it would either put in investment or directly open its own operational company for any expansion into other countries, but this time the Chinese web company chose to build its very first joint-venture company in Indonesia. Tencent president Martin Lau said that this is because the company needs to use a more hands-on, localized approach to reach customers here. Furthermore, he said that Tencent will bring more of its products and services through MNC Tencent.
Last year, Tencent also began pushing its location-based chat app Qute in Indonesia, so this isn't the first time that the Chinese firm has opted to focus on young and mobile-loving Indonesian netizens.
MNC Media CEO Hary Tanoesoedibjo is known to want to build a local search engine to compete with the likes of Google and Yahoo. Would this mean that he is going to build it together with Tencent? While Hary said that he wants to bring a search engine product from this joint venture, Martin more cautiously said that the plan is still in talks and that they are open to such a possibility. Hary also mentioned that he wants to bring another product in the form of web video.
Indonesians on WeChat
Regarding WeChat's progress in Indonesia, Tencent disclosed that WeChat's daily user growth in Indonesia increased from 30,000 to 90,000 (yes, that's new users per day) thanks to WeChat's TV ad campaign launched five days ago. That means – using our math for this bit – that the messaging app has gained as many as 450,000 users in Indonesia in just the last week. The total user-base in the country has not been revealed. Besides the TV ad campaign, the company has approached local bloggers and influencers through events and competitions to help the spread of WeChat in the country.
When asked about WeChat's competition in Indonesia – such as Line and KakaoTalk – Martin answered that because Tencent invested in Korean-based KakaoTalk last year (for a reported 14 percent stake), it's a win-win solution for Tencent if one of those other apps prevails. But not if Line wins this local battle.
It is interesting to see that KakaoTalk also agrees with WeChat's strategy of offering localized touches to tap into the Indonesian market. Rather than opening an office, KakaoTalk's Indonesian stickers is a more simple approach to win over local users.
Note that WeChat is now also a partner with Indonesian media conglomerate Global Mediacom as well as building this joint-venture with subsidiary company MNC Media today. WeChat definitely has a huge advantage when it comes to capital and national exposure. Line, on the other hand, was the first mover to Indonesia and already launched its TV ad campaign earlier this month.
With the messaging app battle looking really fierce now, the collective response of all the Indonesian telcos, which will be dubbed 'Messaging Indonesia', better be really good.