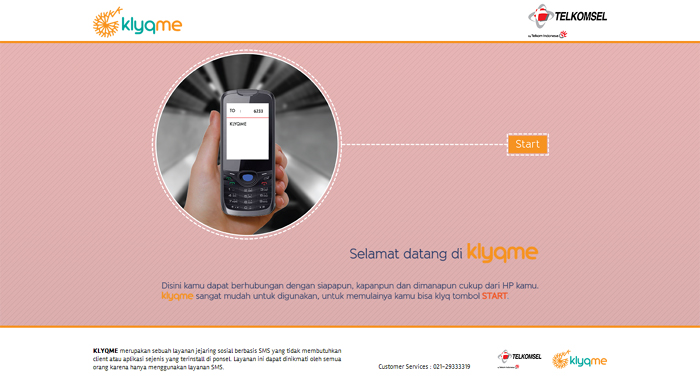 While many people are talking about the smartphone boom, the feature phone userbase in developing countries like Indonesia is still huge. That's why Telkomsel – Indonesia's biggest telco – now supports a new service dedicated to its feature phone users called KLYQME (read as "click me"). The weirdly-spelled service is actually an SMS-based social network. What does that mean?
KLYQME is like Facebook, but with no pictures, just pure SMS. The service doesn't require 3G or a data plan to use. Sounds good so far, but the implementation is much more complicated than typical social networking sites, which potentially makes the whole experience less fun.
To use it, people need to learn and remember a buckload of terms and syntax. To register, users need to SMS "KREG (username)". To get a list of other users, they need to SMS "KWHO", and to get information about the user's biodata, they must add that person's username after the code. To set up your profile (which is optional), you need to SMS "KSET N (name)", "KSET B (birthdate)", and "KSET G (gender)".
The codes do not stop there. Statuses, comments, following other users, and chats all require their own codes. Each activity costs the user one 'klyx', and they get 500 free klyxes upon registration. They can top up the klyxes with phone credits later on.
Telkomsel's rival XL Axiata is actually the first local telco to support KLYQME in Indonesia. The same service is also available in Malaysia under the brand name Kolony. The service was built by Malaysia's telco Celcom Axiata.
Will this work?
Indonesian feature phone users may be willing to give this a try, but I doubt it can beat Facebook or mini blogging platform Mig33 in the long run. Though Mig33 takes more time to load, users appreciate the fun and quirky avatars and pictures offered there.
At least Telkomsel is still paying attention to its feature phone users, who make up more than 60 percent of the company's 128 million subscribers.
Prior to this, Telkomsel launched a premium video service to feature phone users called Video 500. XL Axiata allows its subscribers use chat app Line's stickers via SMS.
(Hat tip to merdeka for spotting)
(Editing by Paul Bischoff)