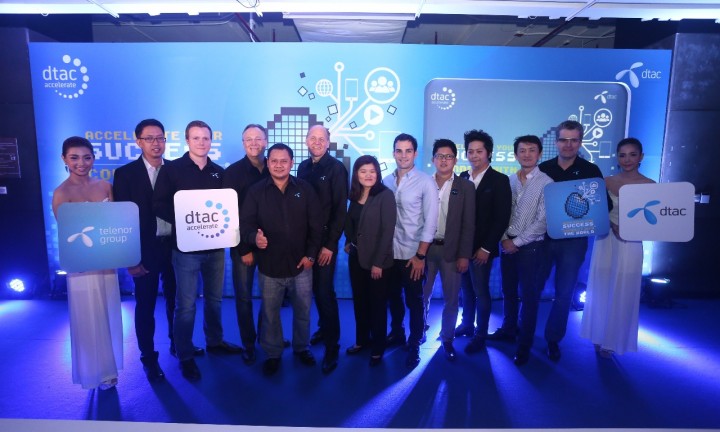 Now all three of Thailand's main telcos are helping the Thai startup ecosystem grow with their own accelerator programs. Today, Telenor's Dtac announced its Dtac Accelerate at an event in Bangkok.
This is the second year for the Thai telco to run Dtac Accelerate. However, it's very different from last year. Starting today, Dtac and Telenor have formed Dtac Accelerate as a separate entity under the telco, pledging to invest THB 100M (US$3 million) into this year's projects, making it more than just an accelerator.
Meanwhile, the True Incube program by True Move has already selected its second batch of startups, and AIS started the third round of its 'The Startup' in mid February.
Incubation for younger startups
Andrew Kvalseth, Dtac's division head of corporate strategy and business innovation, hopes the new company can help various types of startups from a small team of entrepreneurs to those who are ready to compete at the global level:
Dtac Accelerate will categorize applicants into two groups – incubation and acceleration. For those who has the idea and the team, we will provide what's needed to make the passion become real business. At the same time, for those with the product ready, our accelerator program will take that product to the bigger scale.
Dtac will immediately invest THB 500,000 (US$15,500) into every startup that is selected to be part of the program. The money could increase to a maximum of THB 1.5 million (US$ 46,500) for teams that meet all the consequent evaluation criteria.
Jon Eddy Abdullah, Dtac's CEO, explained that the new program will be flexible in how many teams it will select. He's looking at five now, but that could change. Abdullah adds:
The bottom line is we want to focus on quality. We might aim for a lower number first as we want to create a successful model that actually works instead of just doing it all.
Startup teams at Dtac Accelerate will not only get access to Dtac's customers, but all the Telenor Group customers. Kvalseth explains:
For the THB 100M (US$3 million) investment, the majority of it will go to commercialize support (marketing) that we can provide startups to get exposure at the regional level.
Dtac Accelerate focuses on startups working on mobile apps, content or games, ecommerce, online financial services, epayments, online education, geolocation, mobile healthcare, cloud, B2B, and social technology ventures.
For those who are interested, the program is open for submissions from today until April 16.
(Editing by Steven Millward)