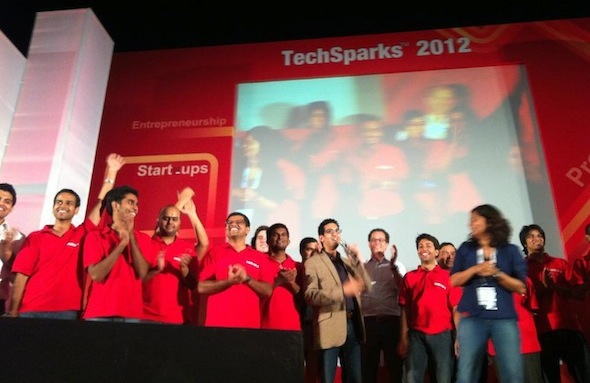 Barring further last minute visa problems, I made it to Bangalore with a few days to spare for TechSparks 2012, India's largest tech startup discovery platform. Prior to the frenzy on the actual day, I saw the YourStory.in team busy themselves getting everything set up for the conference and also arrange special one-on-one sessions for the top thirty startups with sponsors Intel and Sequoia Capital.
Third time running, TechSparks scours the entire nation to find the top product technology startups. The 5-month long search was done across five cities: Mumbai, Delhi, Chennai, Ahmedabad and Hyderabad. The competition saw more than 2000 entrepreneurs and 800 teams pitch to be selected to present at the Grand Finale in Bangalore, but there would only be 30 semi-finalists with 15 finalists that would eventually present on stage.
These 15 teams had six minutes each to convince a panel of judges why they should win. While there are no prizes involved for TechSparks, the honor of winning and media exposure makes it worth the effort. TechSparks 2011 has proven to be quite a game-changer for the majority of the 30 teams that took part last year: 15 raised funding, 1 was acquired and 1 acquired a Northern Ireland startup.
If the path that the top teams from last year's competition followed is any indication, we have high hopes for this year's startups.
This year's winners
Tech30
What do you do when you're supposed to pick three winners but can't quite decide? Pick four, of course.
The winners for TechSparks 2012 are:
1st place: JustUnFollow, enables people to easily unfollow Twitter accounts
2nd place: Harness, enabling real-time classroom collaboration
3rd place (tied): Diabeto, diabetes management with both a hardware and software component, and DataWeave, big data platform
From the Tech30 report, JustUnFollow claims over 1 million users so far with the Android app having received more than 45K downloads in less than 60 days. It currently just allows users to easily unfollow accounts on Twitter but the team presented a product development plan that showed that they thought outside the platform.
Harness had a great demo during their 6-minute pitch and has already completed 5 pilots covering 350 students and 25 teachers, with 2 clients lined up.
Diabeto is the first disease/disorder management app of the company and tackles a big problem in a user-friendly way. It is founded by a very experienced team comprising of Amir Shaikh (co-founder of YouSendIt), Shreekant Pawar (employee #5 of YouSendIt), and Hemanshu Jain (digital marketing at Yahoo!, Media2Win, Ticketplease).
DataWeave is in a huge upcoming industry and already have a few paying customers.
The judges for this year's TechSparks 2012 included Shailendra Singh (Sequoia Capital), Gautam Gandhi (Google), Narendra Bhandari (Intel), Ravi Gururaj (Citrix), Gautam Mago (Sequoia Capital) and Pieter Kemps (Amazon Web Services).
App4India
Running parallel to the main TechSparks startup competition, Tech30, is the Intel-sponsored App4India Challenge. This Challenge focused on apps that use the built-in sensors (such as touch, GPS, accelerometer and compass) of the mobile phones well.
There were three categories with a winner in each:
– Communication Category: MangoReader, interactive ebooks
– Gaming/Creativity/Entertainment Category: MineWhat, ecommerce user personality-driven recommendation engine
– Productivity Category: inTouchid, contact sharing and management
Each of the three winners got a prize of USD 2.5K.
My personal favorites
Out of the top 30 startups according to TechSparks 2012, here are a few additional companies not mentioned above that I liked:
– Teachaclass.org (education technology): enables classrooms in developing countries, giving them access to the online materials like Khan Academy (which requires a lot of bandwidth for the streaming videos). Teachaclass' product is both hardware and software and is basically a portable smart hard disk that contains the educational content and which syncs with content providers (when connected to good internet). They have already done pilots in orphanages in Mongolia, Indonesia and India. They also told me that the World Bank (in Mongolia) has already bought their solution for skills training in the Gobi Desert.
– Juspay.in (payments): wants to offer a digital payment system in India that is akin to Amazon's "buy with 1-click". Huge potential for e- and m-commerce, if they get it right.
Outside the startups
TechSparks 2012 also featured a few interesting keynotes and panel discussions. A noteworthy one to check out is Sequoia's Shailendra Singh's keynote. Amongst many things, he spoke about the need for over-communication and that "work life balance is a myth". I don't agree with the latter, nevertheless, it was a good talk.
The panel discussion was also informative and entertaining as there were differing perspectives between scaling and not scaling. Check out the summary of this session by YourStory.in.
TechSparks 2012 was a blast (pictures here). Thanks to YourStory.in for making it happen and having help grow the Indian entrepreneurial scene the past few years. Looking forward to TechSparks 2013.
SGE is proud to be a Media Partner of TechSparks 2012.