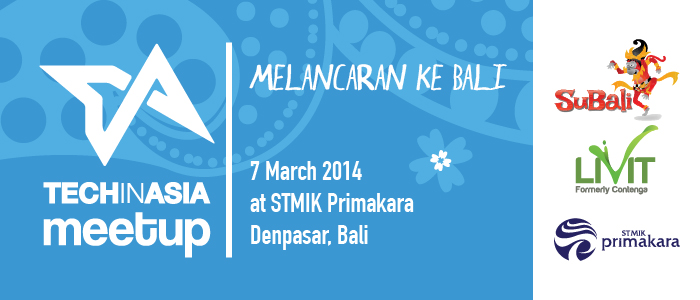 Dear reader,
Next month, Tech in Asia will head to Bali, the isle of Gods, and once again we are all excited to meet and connect with the local startup communities there!
Not only known as a prime travel destination, Bali has also grown in terms of its tech ecosystem. In Bali, some startup communities such as Livit (previously known as Contenga), Subali (Startup Bali), and Gamedev Bali tend to collaborate with each other and support the IT startup ecosystem. That is why Tech in Asia is more than happy to collaborate with Livit and Subali to serve all tech enthusiasts and early stage startups there with our first Bali meetup.
We've invited investors from IMJ Fenox and In-House VC to discuss the investors' mindset in Indonesia, including how to evaluate your startup, what investors look for, and what industries Indonesian startups should focus on. We are still waiting for a few more investors to join in. Nevertheless, the whole Indonesia team at (Tech in Asia and Games in Asia) will be there to meet and greet the community.
You are welcome to join us and listen to the investors speak on March 7 (yes, it's next week!) at 6:30pm. Tickets are free, but grab them fast while stocks last.
Agenda:
6.30 – 7.00pm: Registration & Networking
7.00 – 7.15pm: Opening Speech from Tech in Asia, Subali, and Livit
7.15 – 7.20pm: Introduction by each of the panelists
7.20 – 8.30pm: Fireside chat
8.30 – 9.00pm: Q&A
9:00 – 10.00pm: Elevator pitch
Venue:
STMIK Primakara, 4th floor
Jalan Tukad Badung No. 135
Denpasar, Bali, Indonesia
(Editing by Paul Bischoff)