The past few years have seen the emergence of apps and platforms on which users can post, curate, and share content while following the broad ethos of "these are a few of my favorite things." The most influential of these has been Pinterest, the content curation platform on which users can share anything in theory, but tends to lean towards all-things stylish and artsy-crafty.
Most of these platforms are firmly rooted in the world of things – shoes, watches, recipes. Now, Spottly, a startup based in Hong Kong and Beijing, wants to extend the curation-as-content principle into the realm of travel with its new iOS app that launched last Friday.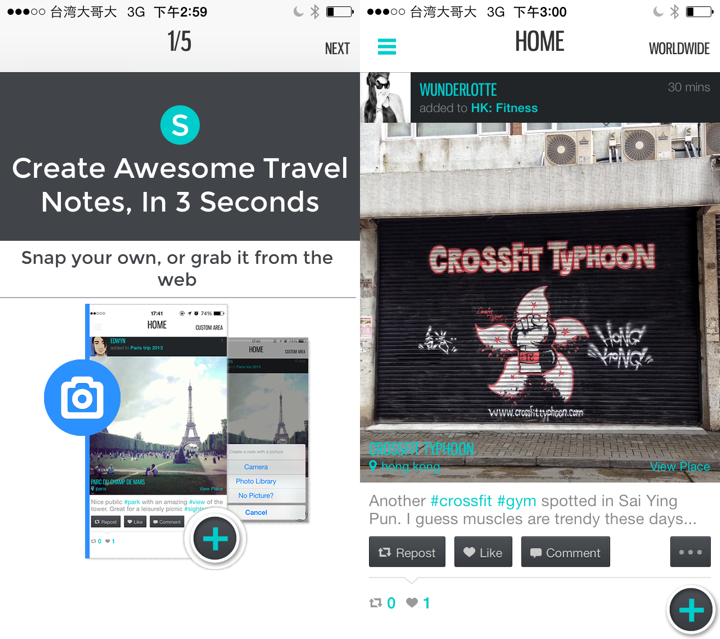 Spottly functions like a 'Pinterest for places,' and as such, it works much like one would expect. After registering, users can search for their favorite places using Spottly's database (taken from Foursquare's open API), snapping photos, and adding notes. Notes are limited to 400 characters, and users can add hashtags to improve the visibility and categorization of their posts.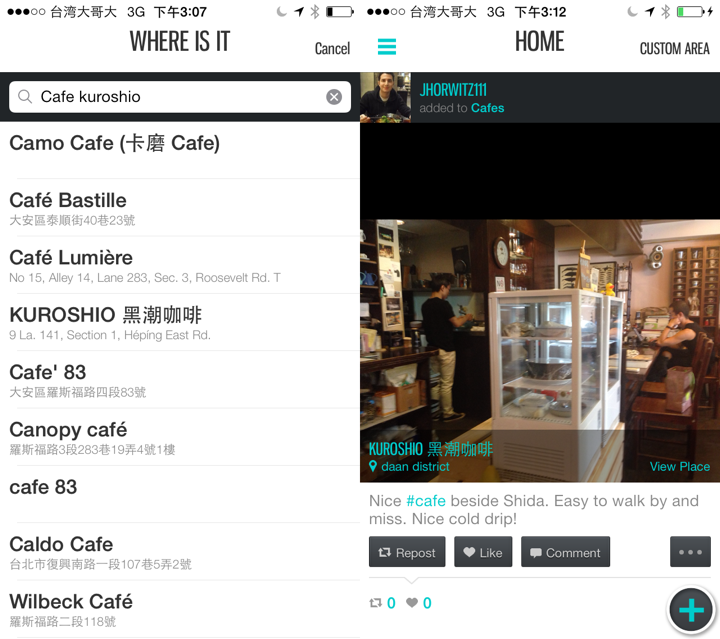 Like other like-minded social networks, Spottly is personality-driven. Users can follow other active users, repost notes that they like, and add comments. Spottly also features public lists in which users can customize store and store notes. Since these lists can be viewed by anyone, they could come in handy for trip planning – for example, if you're planning a trip to Singapore and want to know which restaurant to hit up for cheap eats, just check the lists of a trusted active user based in Singapore and browse through her notes.
"I travel a lot, and I've lived in five different cities," says Spottly co-founder Charlotte Chen, "so a lot of friends ask me where they should go eat or party when they come to cities that I've lived in before. I usually have to write in Evernote and customize it for friends, which gets really cluttery, and updating it is a drag. So we just wanted to make it really easy for people to discover new places – now when friends ask me where they should go I can just say "Hey, download Spottly and look at my Hong Kong list."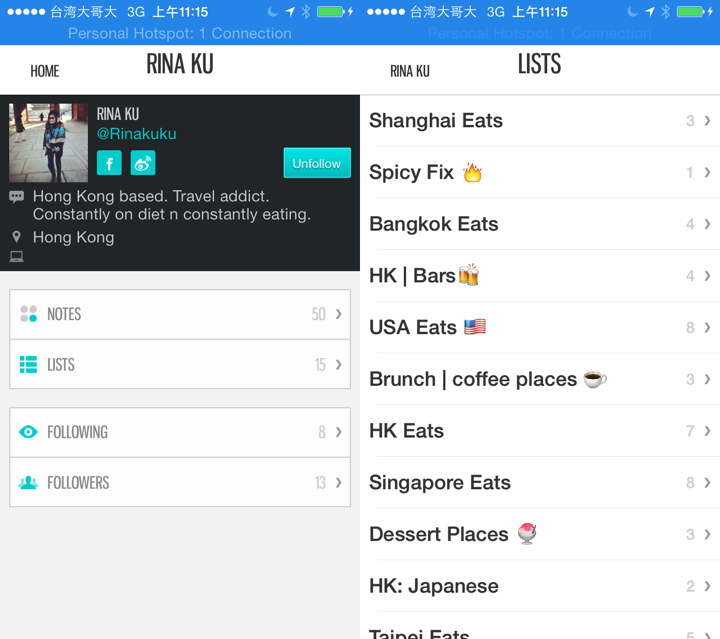 The fast pace of the app and strong visual element make it well-suited for a range of users. Hip locals can show off their urban expertise, travelers can find a cool dive bar not listed in Lonely Planet, and idle dreamers can satisfy their wanderlust by browsing through their feeds.
The three-man (two gents and one lady) team behind Spottly began developing the app last January, and in April received funding from 500 Startups's Beijing branch, led by Rui Ma. Since the app was in the early stages of its development at that time compared to its peers in the program, the team opted not to formally join a batch, but accessed all the resources given to participating startups. Spottly is now available in "public beta," and the team is working on a new round of funding led by Matt Cheng of Cherubic Ventures. It's also been selected by Apple as a "Best New App" in 13 territories just days after its launch.
Spottly is completely free for now, and while Chen states that monetization remains further down the road, the team intends to ultimately earn revenue from targeted advertising (think Suggested Pages on Facebook), and repackaging content into white-label solutions for companies with footing in the travel space. The team also hopes to roll out an Android and web-based version in the future.
Spottly isn't the first social travel app to compete for the spotlight. Everplaces is another mobile app that lets users catalogue and discover new places, though it makes use of its own API. Meanwhile, Spottly is heavy on Asia content at the moment, though this is mostly due to the location of its team.
It's always difficult to predict if an app such as Spottly will gain traction or not. However, just as it's easy to get lost looking at blazers on Pinterest or at food porn on Burpple, one can just as use Spottly as a jumping off point for fantasizing over getaways in Bangkok or Kuala Lumpur.
Download Spottly for iOS here.
(Editing by Paul Bischoff and Steven Millward)
(Thumbnail Image Credit: projectarchive/Flickr)