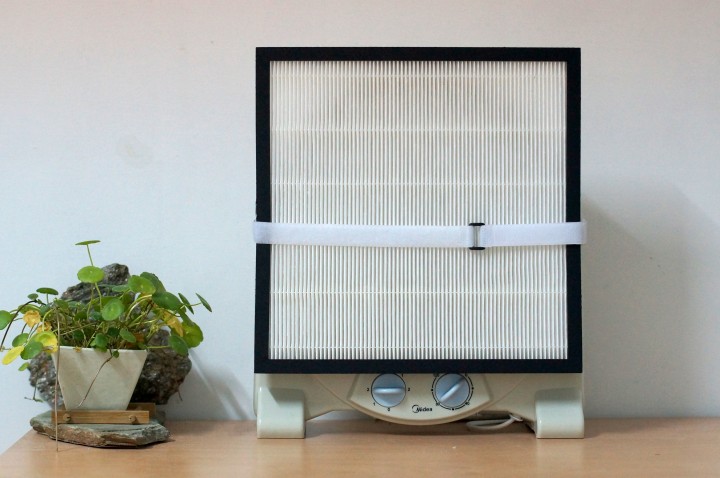 Despite having no business background, setting an arbitrary price point, and starting off with no name recognition whatsoever, Beijing-based startup Smart Air has sold over 2,500 cheap and frankly ugly do-it-yourself air purifier kits, almost as many replacement filters, and another 600 of the more powerful "Cannon" kits since sales began in mid-September.
The scrappy team of four is making waves across polluted Chinese cities with an incredibly simple fact: by strapping a HEPA1 filter to a household fan, you can clean the air in your home for just RMB 200 ($33).
"Air purifiers have been a luxury product for so long," says Gus Tate, Smart Air's CTO, CFO, amateur comedian, and hobby juggler. He explains the common misconception that pricey brand-name models from IQ Air, Blue Air, and Philips are needed to clear out PM 2.5 pollution, the tiny and dangerous type of particle that serves as the common metric for smog levels. "It's as if a car market was full of only BMWs, and people thought that was the only way to get around."
While the idea has existed for some time, no one really knew if this rudimentary design actually worked. Then founder Thomas Talhelm conducted some of the most thorough and comprehensive side-by-side tests to date last year and published the results on his blog. Note that he's not a scientist or engineer and there's a general lack of industry standards, but his study found that the "Ferrari" filters – in this case the RMB 2,700 ($446) Philips and RMB 3,600 ($595) Blue Air models – were only marginally better than his team's DIY creation. The DIY version filtered out 92 percent of PM 2.5 particles, while the Blue Air and Philips both scored 96 percent.
On smoggy days, wearing a face mask in Beijing when going outside is a healthy habit. But Beijingers often assume their homes and offices are somehow safe havens from particles so small they can puncture and stick in your lungs. The indoors, in truth, isn't all that much safer than the outdoors, says Ted Patterson, the team's designer, lead singer, and infrequent movie actor.
Rough around the edges
Talhelm has since returned to the US to finish his PhD in cross-cultural psychology at the University of Virginia, but Tate and the other team members have been running more tests in their homes for every variable they can think up.
As for the business side of things, Smart Air pretty much makes it up as it goes along. The team didn't conduct any customer research, lay out a five-year plan, or even bother to accurately assess what the price of a purifier should be. For weeks, all the assembly, packaging, and distribution was run out of Tate's apartment.
Tate recalls one of his biggest misconceptions was about how the team was going to get paid. "You just buy some stuff and you sell the stuff for more than you bought it for," he assumed, "but that's not how it works." Most of the company's income went back into buying more materials to build more purifiers, so salaries put Smart Air in the red for some time.
Fortunately, demand remained strong. Too strong, at some points. When a heavy wave of record-high pollution hit Shanghai and other nearby cities in December, Smart Air sold over 100 units per day. As a result, orders were backlogged for over two weeks. Despite this and a few other bumps in the road, Tate says Smart Air finally caught a break and sales slowed, at least for now. He says, "For the first time ever we overestimated demand for a period of time – Spring Festival."
Smart Air isn't seeking funding and has already turned down a handful of investment offers. The team is in the early stages of legally registering as a company, but a quick and dirty exit is also on the table. Tate says one possibility is "to just stay underground for as long as you can, make as much money as you possibly can, and then sell it."
A scholarly purpose
They were never in it for the money, anyway. Smart Air was actually conceived when Talhelm made his own purifier and started running tests as a side project. "It wasn't even supposed to be a company at all," Tate says. "All [Talhelm] really wanted to do was share his findings and give an academic talk."
That talk turned into a workshop, which eventually evolved into Smart Air. They continued spreading the word at the local Barcamp and other expat-heavy health- and startup-realted meetups. At first, they gained a strong following from fellow foreigners, but Tate says most of their sales now come from Chinese households. Their products also got a thumbs up from Dr. Richard Saint Cyr, who authors local blog MyHealth Beijing and often writes about air pollution.
No one on the team seems especially concerned with the long-term life of the company, and even Tate has come to terms with the reality that it could be overtaken by bigger players at a moment's notice.
"It would be so easy for the people to make our fans," he says. "I feel like they could crush us."
But that doesn't mean Smart Air is doomed. Even if they meet a worthy challenger in China, Earth has plenty of polluted cities where they could theoretically expand to. India lies at the top of that list.
"Anywhere with air pollution and low cost of manufacturing, A.K.A. the developing world."
Did I mention it's cheap and ugly?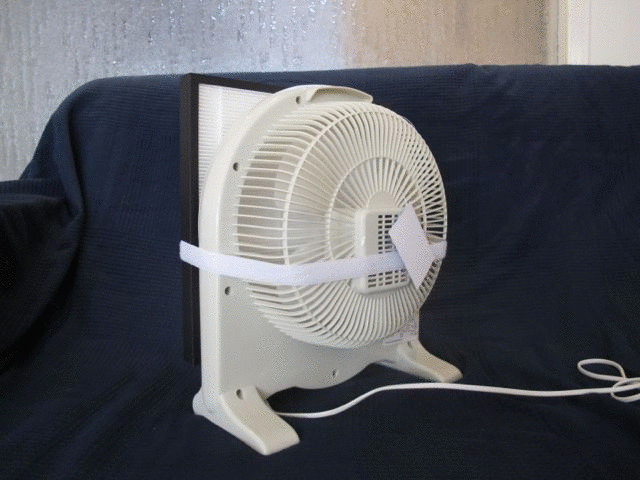 The fan won't be the centerpiece of your living room. In fact, you might want to hide it somewhere when guests come over. It's not a looker, and it can be a bit noisier than the high-dollar models. Also, HEPA filters only remove particulate matter – not harmful gases or radiation – if that's your concern. For the average Beijinger, however, a cost-benefit analysis shows it just doesn't make much sense to spend over ten times as much on a big-name brand. Realizing this, Smart Air clones have already started sprouting up on Taobao.
Tate says you can assemble your own fan for RMB 166 ($27.40) if you buy the components piecemeal, so with Smart Air, you're basically paying for the convenience of not having to hunt down each bit separately.
No one living in a polluted city, however, should suffer the effects of indoor pollution. $33 is a small price to pay for improved health.
(Editing by Steven Millward)
Disclaimer: I purchased and use a Smart Air purifier.
---
[1]: High-efficiency particulate absorption (HEPA) is a standard of filter that remove particles of PM 0.3 or larger and is commonly used in airplanes, motor vehicles, and air purifiers.