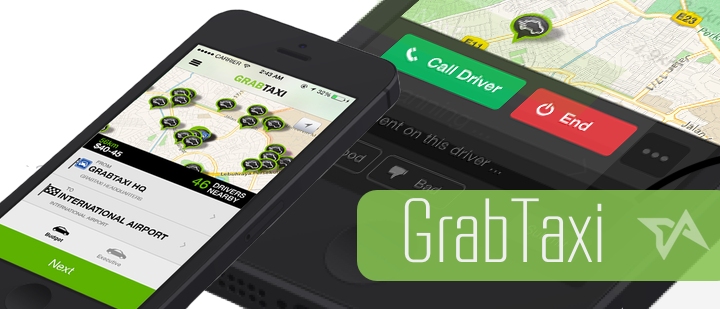 Following its recent US$15 million-series B funding led by GGV Capital, GrabTaxi, the fast-expanding taxi hailing app that's serving users in Malaysia, the Philippines, Thailand, Singapore, and Vietnam, has been launched in Indonesia. Users in the country can already start using GrabTaxi to book a cab.
First launched in 2012 by Harvard-graduates Anthony Tan and Hooi Laing Tan, GrabTaxi is going for a play into the taxi booking industry across Southeast Asia. The company started up in Malaysia under the name MyTeksi, where it has its strongest foothold. Since then, with its rebrand, GrabTaxi has aggressively expanded to other Southeast Asian countries starting in the Philippines, Thailand, Singapore, more recently in Vietnam, and now in Indonesia.
Its operation in five countries has given the company 1.2 million downloads so far with more than 250,000 monthly active users using its service. GrabTaxi also says one cab is booked every two minutes on its app. While no active user numbers were shared, the company claims to be the market leader in the region.
See: 10 taxi apps you can use across Asia
Battling against local giants
Taxi-related crime has become an issue in Indonesia, which is why Indonesians tend to choose cabs only from trustworthy taxi companies. Among those few, one popular name immediately springs to mind: Blue Bird group. Many Indonesians prefer to only ride in Blue Bird taxis because of this, and the company makes sure that it can meet the demand with its own mobile app. Its app is well-built with a GPS feature that lets users know where the ordered taxi is currently located on a map. With Blue Bird's reputation and move to mobile, do Indonesians have any love left over for GrabTaxi? GrabTaxi says yes.
Regional marketing head Cheryl Goh explains the app's technology will convince users and taxi drivers to start using Grabtaxi. She added they face similar problems in other countries, and the app's features still manage to give them good traction.
GrabTaxi has a review system, and this could be added incentive for taxi drivers to perform well. Commuters can receive better assurance that the driver they pick is of a high standard in terms of performance and security. Its 'Share My Ride' feature allows users to let friends and relatives know they've gotten into a cab so that their loved ones can know whether they are safe or not. Eventually, Grabtaxi says those features will gain user's trust.
On the driver's side, there's also a tipping feature, which further incentivizes taxi drivers to ramp up their service. Users who are willing to pay a little more could stand a better chance of getting a cab, as the extra cash may motivate drivers to pick up commuters under difficult circumstances like rush hours. CEO Anthony Tan added:
Drivers who have joined GrabTaxi report that they see an increase of 30 to 300 percent income. This app can help their economic problems. It solves a real problem.
Attracting taxi drivers to GrabTaxi won't be a cakewalk, though. Smartphone penetration in Indonesia may be good, but many taxi drivers don't own or make use of them. To overcome this, GrabTaxi gives smartphone loans to drivers, in which they can pay in installments over a period of time while being educated about how to use the GrabTaxi app.
The GrabTaxi team would not disclose the number of drivers and taxi companies that have signed up for the service so far. To attract new adopters during the beta launch from June 6 to July 6, GrabTaxi will be giving away MAP shopping vouchers to lucky beta testers.
Today's launch marks GrabTaxi's 15th city in its six operating countries. GrabTaxi's strong rival in this region is Rocket Internet's EasyTaxi, which is also eyeing Indonesia with its recent pre-launch in Jakarta and has grown to cover 16 cities across Asia.
GrabTaxi's Indonesia beta is available on iOS, Android, Windows Phone, and BlackBerry.