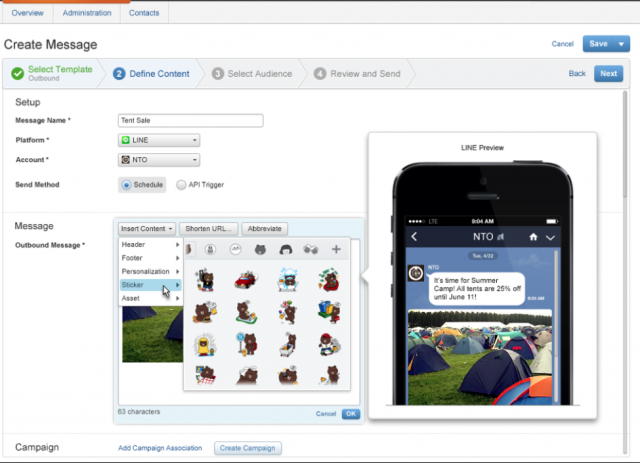 Line, the popular messaging app, will soon have advertisements. Japan-based Line Corp has announced a partnership with US company Salesforce that will give big-name clients the opportunity to push targeted ads to the service's 450 million global users.
According to Nikkei, Line's client companies will be able to filter Line users by age, gender, and geographical location. The new ads will also allow brands to track an individual user's past purchases and browsing history in order to make product recommendations.
At present, Line is entirely ad free – unless you choose to follow brands (on their official sponsored accounts), which will result in you receiving promotions and other marketing material from them.
The new targeted ads will require a user's consent before they are distributed.
Greater reach for brands
Line has more than 100 companies in Japan alone that have official sponsored accounts. As well as being useful for a brand's visibility, they're also used to send discount codes and promotional messages to users. Users can largely ignore these sponsored accounts, often only adding them in order to reap a free sticker set. Once the stickers are obtained, the brand account can easily be unfollowed. The new ads, however, might be unavoidable once you consent to receiving them.
See: 5 indicators why Line could soon topple Facebook in Thailand
Line brought in 12.2 billion yen – $120.3 million – in
revenue in Q4 2013
, coming from a mix of social gaming, brand accounts, and paid stickers/emoticons.
Line charges a 2 million yen (US$19,500) initial sign-up fee for brand accounts, on top of a monthly fee that starts at 1.5 million yen (US$14,600). Companies also pay the service 10 million yen (US$98,000) to offer branded stickers. Pricing for the new ad platform has not yet been disclosed.
Tech in Asia has reached out to Line and Salesforce for comment and will update this post if they reply.