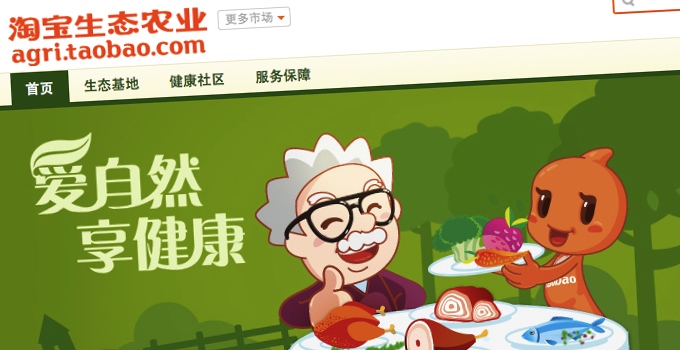 Tainted milk; dangerous additives fed to pigs; pork dipped in chemicals to make it seem fresher; contaminated baby's milk powder; fake milk powder; fake alcohol; soy sauce made from human hair; 'sudan 1' toxic red dye in foods; fake pharmaceuticals; pesticide residue on vegetables; cancerous recycled cooking oils; sewage used in tofu manufacturing; melamine-tainted eggs. These are just some of the truly terrifying food safety scandals that have caused a crisis in China, leaving many people seeking safe alternatives.
Now the country's most popular e-commerce site, Taobao, has launched an online organic food mart that sources fresh items – from fruits and veg, to pulses and rice – from over 1,000 organic and small-scale farms. In addition, it curates and sells a selection of other organic products, such as milk, baby milk formula, and tea. Its pre-packaged items reveal a dearth of locally-made foodstuffs of this type, with the cartons of organic milk all imported from the U.S. or Australia.
The new portal is called Taobao Agri and can be found at agri.taobao.com. The prices of the fresh food items are, unfortunately, so high that they're prohibitive to most people – perhaps to the extent that it means the reach of organic produce won't be extended much by this site, out to rural areas where there are no specialist supermarkets, and will remain the domain of middle- to upper-income folks who can already get much of this stuff in the fancier import marts that they'll find in their city's compounds and upscale districts. For example, a staple like "bok choy" is only about 3 RMB per 'jin' (half kilo), which is 47 US cents, in most vegetable markets, but on Taobao Agri the same vegetable costs 17 RMB per jin (pictured right). Needless to say, a near 5x markup is beyond the means of most consumers.
Nonetheless, it's a welcome option for those wanting some safe and presumably quality foodstuffs delivered to their door. Recently we looked at the food safety web platform called Throw It Out the Window, which shows that Chinese consumers are more concerned about the all-too-numerous food scandals. Indeed, that site has documented over 3,000 specific incidents across the country after scanning reports and records dating back to 2004.
According to Techweb, this has been one year in the planning for Taobao, the C2C e-commerce platform, and will soon expand to allow shoppers the chance to go visit some of these farms, with the option to lease plots of lands and actually contribute their own chemical-free creations to the new online store.