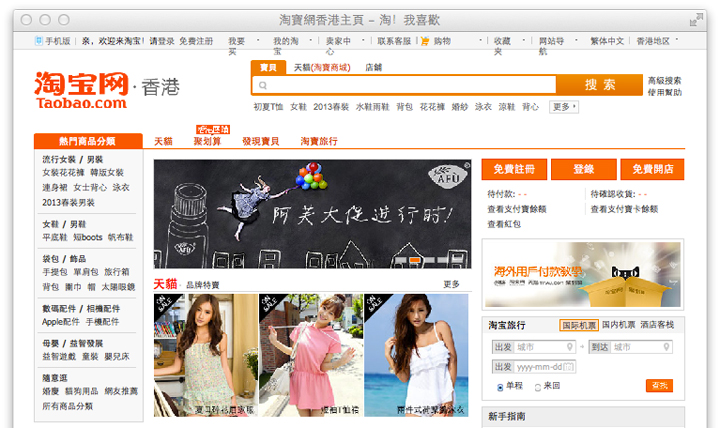 E-shopping marketplace Taobao has been aggressively expanding to Hong Kong and Taiwan. With 1.4 million registered users already in Hong Kong, Taobao today announced at a media event in Hangzhou, China, that it has recently launched a Hong Kong official site at hk.taobao.com.
The official Hong Kong site is customized for a Hong Kong audience in many ways. It features products that Hong Kong users are most likely to buy and also offers a guide to educate users on payments. The design of the site is also much cleaner and neater compared to the China version of Taobao.
Taobao in Taiwan, Malaysia, Singapore
Elsewhere, Taobao is also enjoying growth in Taiwan, Malaysia, and Singapore. By the end of 2012, there were 600,000 users in Taiwan, 210,000 in Malaysia, and 280,000 in Singapore. Daphne Lee, director of international business at Taobao, also shared that Malaysia is seeing explosive growth at the moment. In Malaysia, Taobao is experiencing 78 percent growth in monthly paying unique visitors and also 97 percent growth in daily pageviews.
The countries which are outside of mainland China that Taobao are targeting so far have a significant Chinese-speaking population. Taobao hopes to service the Chinese-speaking audience first before moving on to serve non-Chinese speaking customers. Daphne also pointed out that Singapore is an important market for Taobao since it is a country that uses both Chinese and English languages which could possibly provide Taobao with some data and experience on how to cope with an English speaking market.
A fun fact which Daphne pointed out is that Singaporean shoppers tend to buy winter clothing on Taobao. Well, as you may know, Singapore is really freaking warm all year round. So there aren't really any offline stores to buy winter clothing for travelers – so online shops like Taobao become the go-to destination for rare items like winter clothing.
While it might seem like a piece of cake for Taobao to expand from country to country, there's actually a lot of ground work to be done. Daphne highlighted four fundamental building blocks which her team are constantly tackling: process, logistics, payments, and customer service.
As of June 2012, Taobao has more than 800 million product listings and 500 million registered users worldwide. Today is also Taobao's 10th anniversary and also a day that Jonathan Lu officially takes over from Jack Ma as Alibaba's CEO.