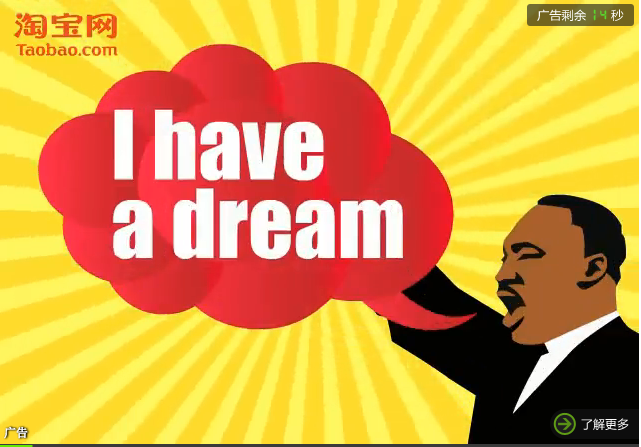 Update: Alibaba, which owns Taobao, has apologized and removed the ads. Its official statement reads, "We deeply regret the cultural insensitivity and sincerely apologize to anyone who was offended; we have taken swift action to remove this advertisement immediately from all websites."
Taobao, is currently launching a promotional campaign for a sales event that will take place on December 12, in a cheeky effort to replicate last month's Single's Day shopping bonanza.  But the company has shown rather poor judgment in choosing one of its brand ambassadors.
A series of pre-video advertisements for the upcoming promotion have surfaced on at least one Chinese video portal depicting a cartoon image of Martin Luther King, Jr, the iconic American civil rights leader assassinated in 1968.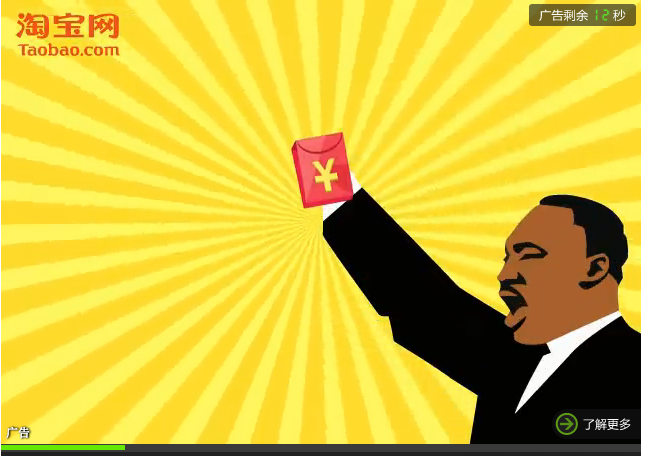 In the ad, a word bubble next to King reads, "I have a dream" before fading away and revealing a red envelope – a common symbol in China representing a monetary gift – placed King's hand. The envelope, stamped with a golden yuan sign (¥), turns out to be full of seeds for planting a money tree.
The then camera zooms in and the envelope reads (translation ours) "Plant a red envelope. Harvest more red envelopes."
For those who don't know, King is an especially revered figure in the United States, and using his likeness in an ad there would amount to public relations suicide.
We can only assume Taobao's marketing team wasn't aware of this cultural taboo.
(Hat-tip to @jakefromer for spotting)
(Editing by Josh Horwitz)