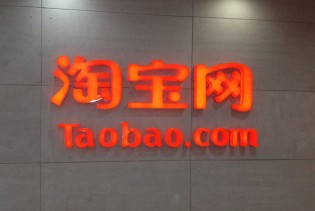 China's biggest e-commerce site, the eBay-esque Taobao, is rumored to soon get the biggest facelift in its lifetime, drastically tidying up the clutter on the pages of its millions of amateur shopkeepers. According to information and images leaked out to eBrun and some other sites, Taobao's visual refresh could be online by the end of this month.
The Taobao tidy-up is rumored to make the C2C shopping site look more like its B2C mall sister site, Tmall, whilst still keeping Taobao's distinctive orange color-scheme. Both are run by Alibaba Group.
There's not too much to look at on the leaked layout image (pictured right), but it looks to be focusing on improving and standardizing the left-hand navigation on a vendor's storefront page. Currently, Taobao shop owners get a huge amount of customization freedom in terms of layout – and even plugins, however annoying they are – so it's not yet clear if those aspects will remain so free.
Behind the scenes of the site, Taobao will also simplify its social communities for sellers and buyers on the site, merging everything into one program called "SNS".
Taobao was started in 2003 as a homegrown alternative to eBay. With better localization than its rival, Taobao soon became a huge platform for hobbyist and professional shopkeepers alike. As of June 2012, Alibaba says that Taobao has more than 800 million product listings and 500 million registered users. It's also slowly expanding out of mainland China and into Hong Kong and Taiwan.
[Source: eBrun; via cn.Techinasia.com – articles in Chinese]