Chocolabs, a Taiwan-based app developer and part of accelerator AppWorks' family, announces the launch of its TV drama streaming app for the Indonesian audience called Dramot. If the app gets good traction in the country, then Chocolabs will consider launching more apps for Indonesia.
Dramot claims to have over 1,000 dramas from South Korea, Taiwan, Japan, and China. All of these videos are crawled and curated from existing video platforms like YouTube, Tudou, and DailyMotion, so the team can offer these videos to users without downloading, uploading, and reproducing them.
All of the dramas come with English subtitles. Localization efforts include local ad partners and promotions.
Dramot will monetize from ads. Their strategy is to first get good enough traction to prove that people love consuming video content via mobile devices. In the meantime, the team will reach out to different content providers and channel owners to tell them about the traffic and, perhaps, collaborate with them.
Dramot is a localized version of another Chocolabs app named TV Series/Shows. The latter app has received over one million downloads so far in Taiwan. In total, Chocolabs now has over 53 apps with more than 3.4 million downloads.
(See: Here are five cool startups from Taiwanese accelerator AppWorks' latest batch)
The app is still lacking a few necessary features like push notifications when new videos are uploaded for a particular series. It is also a bit buggy; sometimes the previous video loads despite trying to open a new one. But Indonesians love dramas, so as long as the app has an ample number of shows available, it can still get good traction.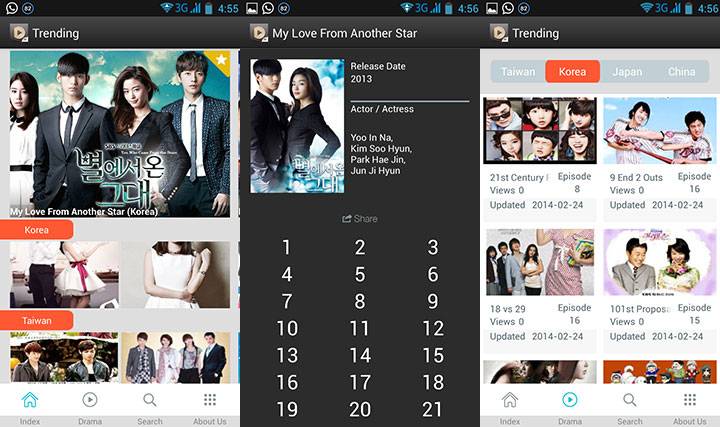 Targeting Indonesia
Indonesia is the first country Chocolabs is targeting outside of Taiwan. If Dramot succeeds, the team will develop more apps for the market. If they find enough success stories in Indonesia, Chocolabs plans to start its own development team in the country to build more local products and client services.
There are not a lot of local apps that deliver similar TV drama streaming services like Dramot, but I'd say anyone who can offer them with Indonesian subtitles can definitely distrupt the market.