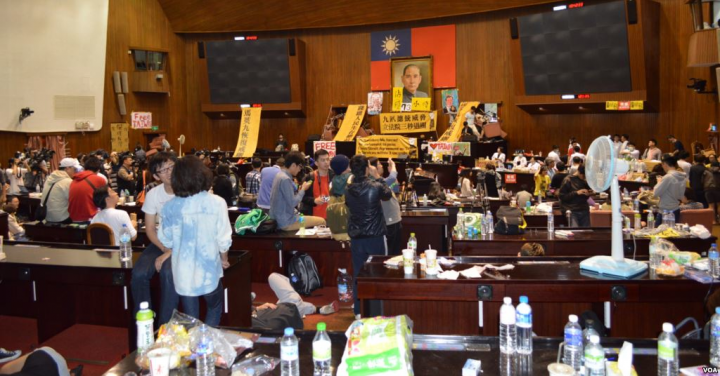 Reddit's AMA's ("Ask Me Anything") are more than just publicity tools for tech-savvy celebrities, or anonymous channels for fast-food employees to dish out trade secrets – they're increasingly becoming an effective way to spread political awareness, as evidenced by a recent entry from leaders of Taiwan's Sunflower Movement.
Late last night Chen Wei-ting, Oliver Cheng, Lin Yu-hsuan, and Sean Su – four students currently occupying the island's Legislative Yuan (think Parliament), opened the floor for questions on the so-called "front page of the internet". Under the account name TWSunflowerRev, the activists tag-teamed in and out as users from around the world asked about the movement and its mission.

Reddit's Ask Me Anything sub-forum has been widely read by lurkers for years, so it takes effort and creativity to receive upvotes and attention. In any case, the thread appears to  have generated a respectable amount of interest from readers. After eight hours, it remains the third most-upvoted within the AMA sub-reddit – sitting behind a thread by the RiffTrax comedians, and ahead of a thread by pop musicians Thievery Corporation. Redditors also gifted Reddit Gold to the TWSunflowerRev account, though the students certainly had more earnest reasons for starting the thread than attaining free access to the site's premium tier.
The so-called Sunflower Movement began when a group of students snuck into the Legislative Yuan in Taipei on the evening of March 19, in reaction to the hastened passing of a pact that would loosen trade restrictions between Taiwan and mainland China. Taiwan's incumbent KMT party claims that the agreement will help boost Taiwan's economy, while opponents of the pact argue that it will affect job security, and in some cases freedom of speech, on the island. After two weeks without regular legislative hearings, proceedings in the Legislative Yuan finally resumed on Monday, even though many activists continue to camp inside the premises.
It's no longer unusual for political activists to harness social media in order to spread their voices globally, and Taiwan citizens have covered all the Web 2.0 bases in their attempt to support the Sunflower Movement. Over the past two weeks, supporters have live-streamed the occupation of the legislature, which can still be observed right now. They also crowdfunded $200,000 in just three hours on Flying V (a local Kickstarter-esque site) to finance a full-page ad in local paper Apple Daily. The fledging group messaging app FireChat saw a surge in downloads in Taiwan partially due its relevance to the protests. And perhaps most startlingly, international fans of the hip 'Google Drive on steroids' web-app Hackpad have had to deal with unbearable loading times, as activists have used the little-known, YC-backed service as the organized movement's central online hub.
Editing by Steven Millward; top image via Wikimedia Commons/Voice of America