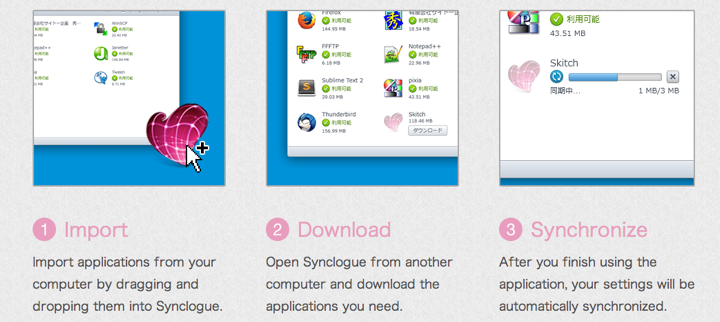 The Tokyo-based startup behind Synclogue, an app that allows Windows users to sync applications (and their respective settings) across multiple computers, is launching an English version of its service this week. The launch signals yet another Japanese startup offering English-language support as many look to gain feedback – and traction – in international markets.
Synclogue syncs Windows apps across multiple PCs without the user having to tweak settings each time they install. It supports many of Windows legacy apps – those which are not available in the Windows Store – and is available for Windows Vista, Windows 7, and Windows 8.
Synclogue CEO Tao Yamamoto wants to make synchronizing Windows apps as smooth as the process is for iOS users.
"If you own an iPhone, you've probably experienced the simplicity and power of Apple's synchronization technology," Yamamoto told Tech in Asia. "When you get a new iPhone you simply plug it into your computer and you immediately get all your iPhone apps, including their settings, installed on your new phone.​ This is the functional elegance that Synclogue is working to bring to the world of Windows legacy applications."
A major benefit that Synclogue claims to have over competing platforms like RemoteApp is that it allows synchronized apps to run locally – meaning that an internet connection isn't required to use them. Yamamoto also stresses that Synclogue was designed for individuals, not enterprise customers, and that ease of use is a high priority.
See: Support for Windows XP is over, but China still has 200 million PCs using it
Until recently, Synclogue had capped user registrations for its free beta, launched in Japan in
June 2013
, at 1,000 people due to server constraints. Prior to the launch of the English version, the cap was raised to 2,000 to permit new registrations. Yamamoto says that around 10 percent of users are active on a monthly basis.
Synclogue received seed funding from Samurai Incubate in 2009 and completed its approximately US$5 million series A funding, led by Nissay Capital and SMBC Venture Capital, in 2012.
"The service is in free beta in both Japan and overseas with the goal of letting people test it and use it so that Synclogue can ​best ​understand its users' needs and refine its service offering," Yamamoto adds. "The ​basic monetization strategy ​has been to charge a monthly fee for the product ​once it is​ out of beta."