It's easy to get caught up in all the excitement about apps and increasing smartphone penetration and forget that China is not all iPhones and Mi-Ones. Search giant Baidu has released its quarterly report on internet trends in China, and the thing is a goldmine of information — we'll likely be bringing you several more posts based on it over the next few days — but one of the things that immediately jumped out at me was how popular Nokia and Symbian still are in China.
Looking first at brands in general, Baidu shared this chart, which we have taken the liberty of translating below. Remember, this is the breakdown for phones that are used to browse online, so it doesn't account for anyone whose phone never crosses the Baidu homepage. It includes both smartphones and feature phones, so long as those feature phones are capable of browsing Baidu.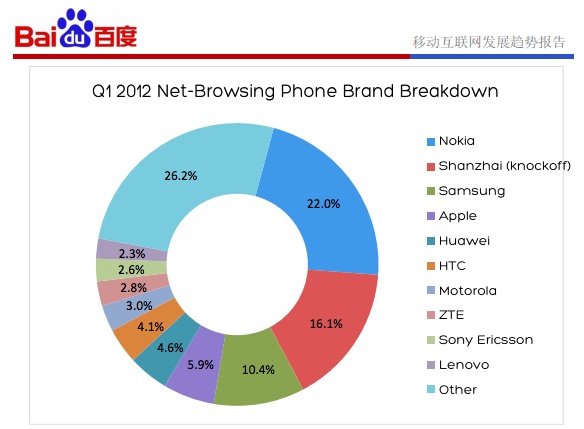 Notice that the top three most popular net-browsing phone brands are:
Other
Nokia
Off-brand knockoffs
Collectively, those guys account for more than 60 percent of the web-browsing mobile phone market, according to Baidu's calculations. I knew off-brand and Nokia phones were still a major factor, but I'm a little surprised they continue to make up such a massive percentage of the web-browsing market.
Looking at the breakdown of mobile phone platforms used to access Baidu, the outlook is pretty similar. Did you expect Android to be in the first place spot? Guess again: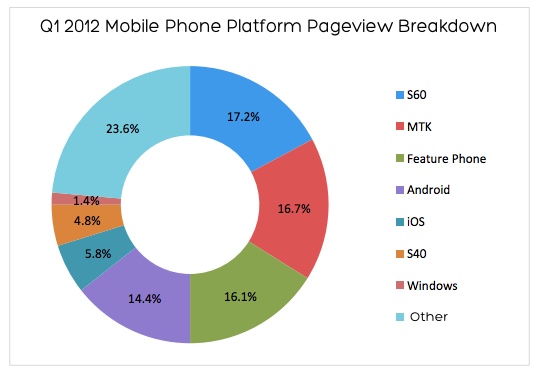 Look at that! Android is still pretty small, and there are nearly as many people browsing the web with outdated versions of Symbian (S40) as there are with iOS. Bet you didn't see that coming, did you?
It's quite clear what direction the Chinese market — heck, the world market — for smartphones is headed, of course. I would expect that next quarter we'll see Symbian continue to shrink and Android continue to grow. But these numbers are definitely a worthwhile reminder of where we are right now in China. The mobile internet is here to stay, but don't assume that everyone accessing it is doing so from an Android or iOS smartphone, because it turns out a majority of them actually aren't. Yet.
[via Baidu's Q1 2012 Internet Trends Report]