There's been a lot of startup action in Australia of late, with App.io announcing it raised $1 million yesterday and startup events such as SydStart and CeBIT Australia happening this week. And more funds are flowing down under; it's no longer looking bleak compared to a year ago when we spoke to PushStart co-founder Kim Heras who lamented the state of the ecosystem. An all new Sydney Seed Fund of A$2 million ($1.9 million) over a eight-year investment period has been announced today, aiming to invest approximately A$50,000 ($48,000) to A$150,000 ($144,000) in 20 early-stage Australian tech startups.
The fund typically looks out for young startups within the internet and technology sector that are less than 18 months old. It's seeking founders who have at least a near-ready prototype with a clear exit mechanism. Australian startups interested to find out more about the requirements can visit its website here. Co-founder Garry Visontay also adds:
This target investment sector is currently underserved and offers a huge opportunity, with no direct professional competitors. Typically, at this stage, startups rely on personal sources of finance or seek capital from 'friends and family' sources for financing, which is usually limited.

Historically this is often the phase of a startup's development that offers highly attractive wholesale valuations, rapid growth, and potential for relatively quick exits as larger capital providers such as VC/PE funds or strategic investors seek to gain a position.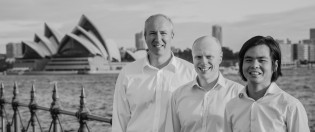 The fund is started by three experienced entrepreneurs, Benjamin Chong, Ari Klinger, and Garry Visontay (pictured right), with the vision of creating an ecosystem to allow investees, mentors, fund investors, and fund managers to be able to leverage on the relationships to get more resources and advice.