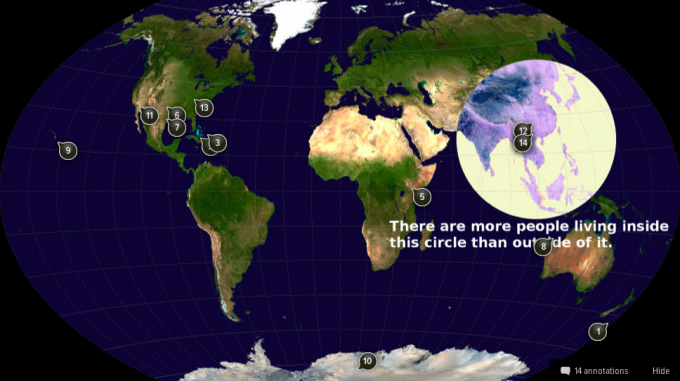 Last month, we reported that 42 percent of the world's internet users live in Asia. Today, a report came out citing that Asia is the leader in growth in connection speeds. The internet speed in Taiwan, for example, increased by 36 percent last year. On the slower end, China's and Vietnam's internet sped up by 20 percent. And finally, yet another report today says that half of the Asian population will have LTE by 2018. There is no doubt that Asia is the future of the internet (and mobile) in terms of users, markets, speed, and potential.
This potential is especially enhanced by the two Asias: 1) the Asian tigers led by the likes of Singapore, Taiwan, Japan, South Korea, and Taiwan and 2) the emerging markets of Southeast Asia, China, and South Asia. The former is an Asia that looks to lead the world in growing technology trends like electric vehicles, advanced engineering, medical breakthroughs, and 3D printing, while the latter looks to leapfrog infrastructure, jump straight into mobile, and take advantage of massive untapped markets. It's these potentialities that have major companies like Singtel pouring billions of dollars into startup acquisitions and even governments like Vietnam waking up to support startups. But the question is, do the startup scenes spread across the Asian continent have what it takes to meet the demand?
Asian investors still don't care that much about technology
The power of Silicon Valley is the huge concentration of startups. It's this testing machine that allows many startups to fail (and potentially succeed) en masse. And although Asia is full of growing startup cities that want to be the next San Francisco, it's still a far cry. In 2012 alone, Silicon Valley drew in over $10 billion in venture capital. Tel Aviv, second to the Valley, drew in just one-fifth of that, $1.9 billion.
Paul Graham, in one of his early essays in 2006, said, "you only need two kinds of people to create a technology hub: rich people and nerds." Based on this premise, let's look at some numbers.
Silicon Valley (from San Jose to Santa Clara and not including San Francisco) has at least 40,400 total engineers as of July 2013. According to the latest census data, there is approximately 3.3 million computer engineers across the country.
India, Asia's leading producer of computer engineers, trained over 1.5 million engineers last year. It's a big number, but as the Economic Times points out, many of these engineers are not getting hired. Singapore, on the other side of the Asian pond, is dealing with the opposite problem, there just aren't enough engineers despite a huge stockpile of money ready to invest into startups. These types of imbalances are rife across Asia.
With unbalanced ecosystems across the region, Asia manages to cope
Despite a lack of synergy between nerds and investors, Asia is still producing huge tech companies, the likes of which the world has never seen. Alibaba and Tencent out of China or Infosys and Mindtree from India are examples of this. GREE and DeNA are big gaming examples from Japan. And Southeast Asia, although yet to produce a huge regional multi-billion dollar tech company, is starting to see some potential in small 100-plus employee companies like Appota, Ookbee, Tiket.com, and more.
But the above companies exist in their own bubbles – isolated startups that are anomalies even in their own local startup ecosystems. In the Valley, it's common to see stories where the CEO of Instagram is good pals with the CEO of Quora or the Salesforce CEO used to work under the Apple CEO. Giants rub shoulders with giants. In Asia, startups are spread so far apart, and the scenes are so young and small that such shoulder rubs are few and far between. Asia is pioneering the process of producing startups without a unified startup ecosystem.
Don't think different, think bigger
The problem is these tiny Swiss cheese Asian ecosystems have to cope with markets profoundly out of their element. In the Valley, startups benefit from philosophies grown and molded out of the history of the Valley – philosophies like lean startup and accelerators like Y Combinator that are part and parcel to the modus operandi in that area. These methodologies result from decades of failure and success. Asia has not been in the tech game long enough to have any of these philosophies codified and preached. Asia needs a startup philosophy of its own. If not, it will completely miss its own potential.
(Editing by Paul Bischoff)